DJ Xenia Ghali Primed For Worldwide Success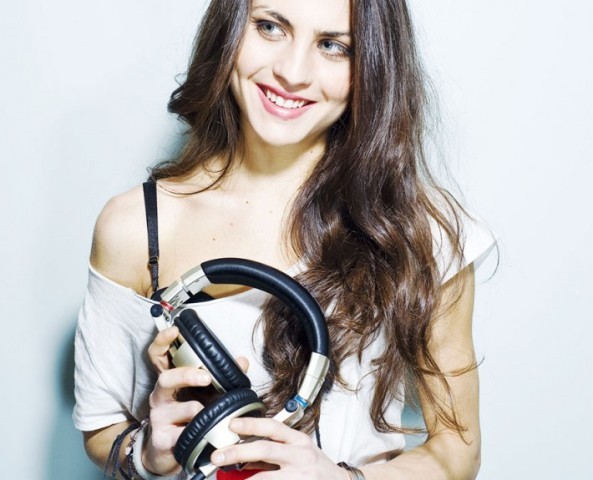 If you're a fan of strong women in music, you should meet Xenia Ghali. She's a multi-hyphenate - composer, songwriter, and DJ - who's releasing two new singles and their music videos simultaneously in two different countries. It takes a talented and dedicated person to do all that. BFTV recently connected with Xenia to ask her how she makes it happen, and find out the one thing that she can't do.
Here in the United States, Xenia's breaking "Out With A Bang", which features one of our featured artists, Jessica Sutta. In her native Europe, audiences can dial up "No Taboo", featuring Victoria Taylor. We asked Xenia to describe both of her new singles for us.
"'Out with a Bang,' it's a really dynamic, sexy, fresh pop song. Jessica killed the vocals. It's a record that you could listen to at any point in your day," she said, describing the accompanying video as "really fun and [it] portrays exactly what Jessica and I are like."
As for 'No Taboo,' "It's equally dynamic and sexy and it's a pop-dance song as well. It's got a really edgy vibe to it," Xenia continued. "It features European pop artist Victoria Taylor. She's actually American but she's living in Greece now. And [the video is] honestly state of the art."
But how does releasing a song in America compare to dropping one in the UK? "Honestly, I don't differentiate the markets in terms of territory. I just do my thing," Xenia explained. "I spent most of my life in Europe; people know me more in Europe. I've only been living in the States for two years, so my contacts aren't as many as the contacts I have in Europe. [But] in the span of two years, I've done quite a bit in the States and I've gotten good reception. It's just a matter of spending equal amounts of time where you want to be working."
The bigger challenge is showcasing the true breadth of her talents. "The one big problem I have is getting people to really understand what it is that I do," she told us. "Every person asks me 'Do you sing?' and the answer is no, I don't. I've tried; I've taken some vocal lessons [but] I wouldn't record.
"I specialize in songwriting and producing [and] I'm a DJ as well," Xenia elaborated. "So as an artist, I [describe] myself as a DJ and producer who features other artists on my records. I also do a lot of writing and composing and producing for other artists. I do a lot of what they call shadow writing, which is behind the scenes.
"Another thing you should probably know is I write and produce a lot of different styles of music. I've written acoustic, I've written ballads, I've even scored for film and for theater, some reggae music," she added. "But for myself and what I put out, it's more along the lines of pop and dance."
Dance tracks like her 2012 hit "I'll Show You Right," featuring Noni Culotta, the video for which has over a million views on YouTube. You can check it out below.
Having won the International Songwriting Competition in 2012, Xenia has established that she can not only do a lot of things, but she can also do them well. So we asked her to tell us something that she's not good at. "I unfortunately never picked up the violin," she revealed, "and it's something I've always wanted to do and I will do at some point in my life.
"I can play the piano, the flute, the guitar, the drums and because I play flute, I can play all the instruments related to it," she added. "Any kind of bowed instrument was something I never actually learned." We give it six months before she'll probably have mastered that, too.
You can download all of Xenia's music on iTunes now. You can also learn more about Xenia by visiting her website (xeniaghali.com) and following her on Twitter (@xghali).
(c)2013 Brittany Frederick. Appears at Starpulse with permission. All rights reserved. No reproduction permitted. Visit my official website and follow me on Twitter at @tvbrittanyf.