DJ Josh LeCash Hits the Big Screen with 'Rebel Rebel Rebel'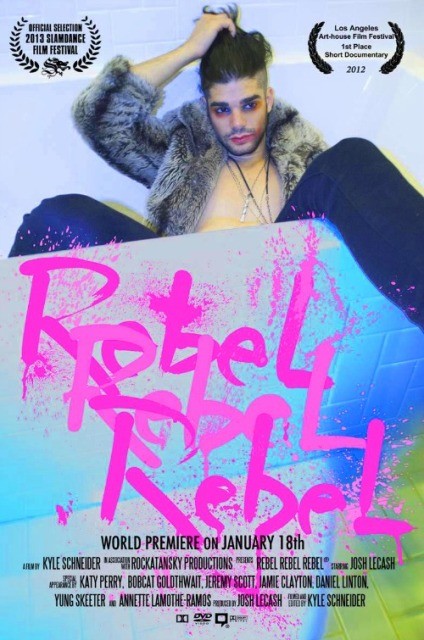 Josh LeCash is not your ordinary DJ. The Miami native has DJ'ed for the likes of Katy Perry and Adam Levine, and his straightforward, no-bull personality has made him a movie star as well. He's the subject of the documentary film Rebel Rebel Rebel, which won the top short doc prize at the Los Angeles Art House Film Festival and recently caused a buzz at Slamdance. BFTV checked in with Josh earlier this week - as he geared up to work Maroon 5's post-Grammy party - to get the 411 on his movie and what it's really like to be a top DJ.
His motivation to start his craft came from growing up near South Beach, and being exposed to Miami's highly competitive DJ market as a teenager. Believing he could do better than the DJ's he was listening to, Josh started practicing and has never looked back.
"I thought it was going to be about partying and the girls, and I wasn't wrong. It didn't let me down," he said with a laugh. But he's also quick to stress that there's much more that goes into his chosen profession. "For me, as extravagant as the DJ lifestyle is, and it is, there is more to it. It's not something that I think everyone can do, especially nowadays where everyone is trying to do it. I hope that people, when they watch [the movie], they can see that it's not as easy as it seems, and my life isn't easy as it seems."
What brought Josh's life story from the hotspots of Hollywood to the big screen? "It wasn't my idea," he explained. "Kyle Schneider, the director, he saw me DJ at one of my gigs here in LA. He thought it would be cool to do a little, I think originally it was going to be a little YouTube video. I really didn't know it was going to be a documentary. Kyle just told me the idea and he started following me for a couple of weeks. It kind of turned out way better than he had hoped for."
"We do want to make a feature version of it," he continued. "With a feature we can really show more. I want to go deeper into the world. I think it does show my distinct personality. I think I'm a little more eccentric than most people."
One of the things that makes Josh different is that he's not all caught up in the Hollywood hype-and-glitz machine. "I do love the smaller parties. I really, really love those," he said. "They're a lot of fun to play and you can really express yourself much more than you would be able to do in a giant club." He's willing and able to mix it up, whether he's playing a hotel opening in Mexico City, or a more kid-friendly event like the upcoming Macy's launch of Levine's new fragrance.
The Hollywood DJ - who also calls David Bowie a hero and enjoys ice hockey, boxing, and Mexican food when he's not working a room - doesn't just concern himself with the dance-floor crowd at his gigs, either. He also wants to make the wallflowers feel at home, too. "That's what I like about DJing," he said. "My job is to make people more comfortable when you're at a party."
"You get to meet people all over the world, and somehow you have friends everywhere you go," he added, reflecting on the nonmaterial perks of his career. "You have to become friends with people there, or you're going to be alone."
But just because he's a friendly guy doesn't mean that Josh is afraid to make waves. As the interview concluded, he had a few things that he wanted to say to the masses. "When we were at Slamdance, there were people who were worried about my health, and I want to just point out to them that I'll be fine for a long time," he explained.
Fine enough that although he doesn't think Rebel Rebel Rebel hasn't made it into the famed South by Southwest (SXSW) film festival, "I'm still going to go out there," he added. "I have a personal vendetta out." Spoken like someone who's definitely not your average DJ.
You can keep up with Josh on Twitter (@JoshLeCash), check out his music on SoundCloud (SoundCloud.com/JoshLeCash), and look below to watch him in the new Guy Fantastico video "Floating, Floating, Floating." Rebel Rebel Rebel is on the film festival circuit now.
For more from Brittany Frederick, visit my official website and follow me on Twitter (@tvbrittanyf).
(c)2013 Brittany Frederick. Appears at Starpulse with permission. All rights reserved. No reproduction permitted.