DJ Dainjazone Takes the World on New Tour with LMFAO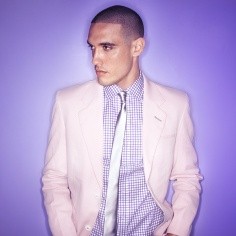 What's it like to be on the road with LMFAO? Star DJ DJ Dainjazone knows, as he's currently the tour DJ for the red-hot "Party Rock Anthem" duo - but is also maintaining a career as a solo artist. He recently chatted with me about being their supporting act while continuing to establish his own brand.
A former college baseball player, he discovered his passion for DJ'ing and elected to focus his work ethic away from sports and into music. Creative influences included "Immortal Technique, Jedi Mind Tricks, KRS-One, Big L, Q-Bert, DJ Vajra, A-Trak, plus many more." He eventually got the attention of LMFAO, who brought him on their recent international tour as their opening act. The tour concludes November 17.
Asked to name his favorite tour stops, he said "Pacha in Salou Spain was amazing. The crowd was on fire both times. Cannes, France is gorgeous and Le Palais, the club we performed at, had a live crowd. Via Notte in Corsica, France was one of best gigs on this tour. The club was outside and we went until the sun came up."
Although he's enjoyed the touring gig, he's already planning his next moves in order to maximize his exposure. "I will finish off the rest of the year as LMFAO's tour DJ and I will be done as a tour DJ," he told me. "The experience is like no other but it's time for me to focus on my brand and the many avenues I plan on pursuing."
What are some of those avenues? "I will venture into the modeling world," he said. "That will lead into commercials and acting."
In addition to touring with LMFAO, DJ Dainjazone also has a solo career, including two separate residencies in Las Vegas: Marquee Mondays and La Freak Friday at LAVO. His mixtape Bottle Rats in the Trap can be heard here.
He makes a point of refuting the idea that anyone with a computer can fancy themselves a DJ. What are some of the things a serious DJ needs to know? "Reading a crowd," he said. "It's an art. You can play the ten hottest songs in the club scene and that may not be the smartest move.
"The crowd will probably like all those songs being played, but chances are you will burn the crowd out. You have to know what's best for them and the club's means. The objective is to keep the floor packed and the bar happy. If people don't stop dancing then the bar doesn't make money."
While he knows how to maximize the night for the venues in which he plays, he personally isn't driven by financial gain. The things most important to him in his music career are "Art, creativity, [and] integrity. Art is a combination of originality and creativity. If something is duplicated its not art. I stress this in my sets. As DJs we can coast through our sets by doing minimal work. There's usually no art behind that.
"Why would I do that when I have the opportunity to squeeze out my creative juices and give you an experience and a set you may have never felt before? Why not have you feel my passion, my vision and my perception of art through my set? In most cases people won't know what I did or how I did it. Art is unexplainable. Science can't define or explain it. It's organic."
For more on DJ Dainjazone, visit his official website.
For more from Brittany Frederick, visit my Starpulse writer page and follow me on Twitter (@tvbrittanyf).
(c)2012 Brittany Frederick/Digital Airwaves. Appears at Starpulse with permission. All rights reserved. No reproduction permitted.