Dizzee Rascal Scraps Festival Performance After Aircraft Drama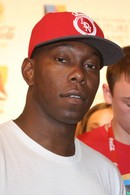 Rapper Dizzee Rascal pulled out of a performance at a Portuguese festival this weekend after he was involved in an incident on a plane at London's Heathrow Airport.

The "Bonkers" hitmaker was onboard a British Airways flight on Saturday and is alleged to have had an argument with a flight attendant.

Police were called to attend the disturbance and Rascal, who was due to perform at the Optimus Alive festival, is said to have been ordered off the aircraft.

An eyewitness tells Britain's Mail on Sunday, "Dizzee was getting very angry it was taking so long to take off. Then he threw a tantrum with staff, and passengers were told something was wrong.

"After the incident his band members were still on the flight. They started kicking off too, shouting that they couldn't play without him because he'd been thrown off."

An airport source adds, "This will not be tolerated. He was taken off the aircraft and was not allowed to continue his route on any other British Airways plane. There will be an internal investigation and a decision will be taken as to whether he will ever be allowed to fly with British Airways again."

Speaking about the incident, Rascal's spokesperson claims a member of staff's "unprofessional behaviour... led to a confrontation whereby mutual parties agreed Dizzee (should) leave the plane... He is very disappointed not to be able to perform and apologizes to his fans."

A police spokesperson adds, "Officers attended the scene but there were no arrests."