Dixie Chicks Come Together For Texas Fire Victims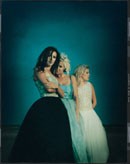 The Dixie Chicks are reuniting to raise funds for the victims of this summer's wildfires in Texas.

The trio will team up with Willie Nelson, Lyle Lovett and Asleep at the Wheel, among others for the Fire Relief: The Concert for Central Texas event on October 17.

The fundraiser will be hosted by Emmy Award-winning Friday Night Lights star Kyle Chandler.

All proceeds will go to the Central Texas Wildfire Fund at the Austin Community Foundation in its efforts to assist families dealing with long-term problems stemming from the wildfires which ravaged the area this summer.

The fires cost two people their lives and destroyed over 1,500 homes, causing an estimated $250 million in damage.