Dita Von Teese Forced To Cover Up For 'CSI' Role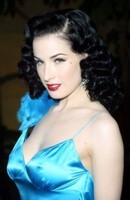 Busty beauty Dita Von Teese was forced to cover up for her guest appearance on CSI: Crime Scene Investigation - because TV executives feared viewers would find her cleavage "offensive".

The star plays a shy teacher with a secret life as a stripper, called Rita Von Squeeze, in a new episode, due to air next week.

Von Teese has now revealed show bosses asked her to tone down her usual raunchy look to avoid upsetting viewers.

She tells TV Guide, "There was a lot of network talk about my 'offensive cleavage', which I found interesting considering how much blood and gore there is."
"We had to take it down a notch."