Disney Stars: Where Should The Guidance Come From

Tweens and teenagers are impressionable flibbertigibbets. They lack the experience, perspective, and good judgment that can really only come with age. Throw money and fame into the mix, and the results can be less than desirable. Young Disney stars find themselves in just such a situation.
These young people, mostly female, have access to anything they could possibly want: expensive clothes, millions of fans, instant friends, decreased parental supervision, other celebrities, and parties. We've seen, though, that this kind of power isn't always a good thing. Similar circumstances led
Jamie Lynn Spears
,
Lindsay Lohan
, and
Miley Cyrus
down roads spiked with missteps and controversy.
At fifteen years old, Jamie Lynn Spears was one of Disney's brightest stars. She had her own show,
Zoey 101
, and a solid following. Jamie Lynn was a regular at awards shows like the Teen Choice Awards and appeared to be navigating young stardom effectively. Like her sister, the infamous Britney, she vowed to remain a virgin until marriage. However, her path to tween queen supreme was blocked by a little, swaddled bundle of joy. Jamie became pregnant with Maddie Briann, the daughter she conceived with boyfriend Casey, whom she met at a church function. Jamie Lynn moved back to Kentwood, LA, and began her life as a teenage mother and fiancé. Career dunzo.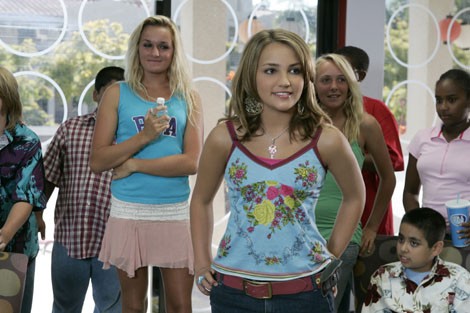 Lindsay Lohan got her big break playing freckle-faced twins in a Disney remake of "
The Parent Trap
." Disney continued to milk Lindsay's success at reprising classic roles until she was well into her teen years by giving her starring roles in both "
Freaky Friday
" and "
Herbie Fully Loaded
." Just as "Herbie" was released, though, and when Lindsay was still underage, the public began to hear stories of nights filled with clubbing, hospital stays for "exhaustion," and a live-in relationship with much older boyfriend
Wilmer Valderrama
. Since then, Lindsay has been involved in numerous car accidents, engaged in a high speed chase after her assistant, and has attended rehab numerous times for drug and alcohol abuse. She even admitted in a paparazzi video that her twenty-first was her first sober birthday.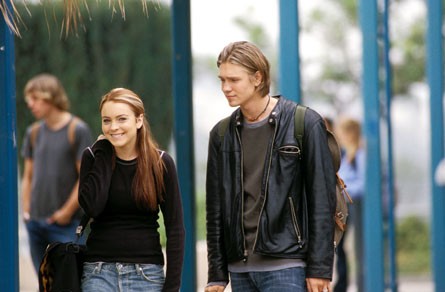 Lindsay Lohan in Freaky Friday
Now, of course, there is
Miley Cyrus
, star of "
Hannah Montana
." She is the current Disney darling and rakes in millions upon millions for the corporation. For a long time, she was the perfect picture of a Disney star. She was a young, outgoing, appropriately innocent girl who seemed grounded in her family and religious beliefs (she, too, has taken a vow of virginity). She had enough talent to sing and act her way into the hearts of little girls all over the world, all while wearing a heinous blonde wig. It looked like she was able to be both happy with herself and a role model to her fans at the same time. However, now we're starting to see some cracks in her armor.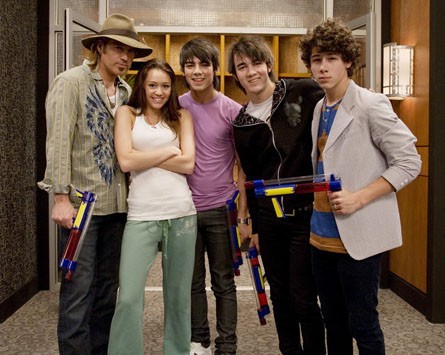 Miley's downward slope began when she appeared in Vogue magazine with her back exposed and wearing only a sheet. The image of a 15-year-old Disney star looking strikingly post-romp, along with another of Miley posing intimately with her father, drew a firestorm from the media and the public. She apologized for the photos and indicated that she was somehow pressured by renowned photographer Annie Liebowitz (even if only by the weight of Liebowitz's artistic reputation). Shortly after, some private photos were leaked to the press. Miley took these herself, and in them she's wearing her underwear and exposing her stomach, which she shows by holding her shirt up with her teeth. In others, Miley shows of her lime green bra and poses strewn across some guy while showing her stomach, again. In yet another set of photos, Miley appears to be standing under a running shower wearing nothing but a fully saturated white t-shirt.
Miley was able to bounce back from the leak of these private photos. Lately, though, her youth is really starting to show- and hurt her. Nearly 16, Miley is in the thick of what are, for many young women, the mean girls years. These are the years in high school where the
mean girls
, made famous by
Tina Fey
and Lindsay Lohan (coincidence?), pull away from the pack and wreak havoc on seemingly weaker ducklings. It looks like Miley might be one of the mean girls - a full on Regina George. She and best friend Mandy Jiroux made a YouTube video mocking up and coming Disney stars
Demi Lovato
and
Selena Gomez
. Miley laughed and giggled her way through making fun of everything in a video Demi and Selena made together, including a t-shirt one of the girls wore. Many thought that Miley's video was motivated, at least in part, by her belief that Selena was dating Miley's rumored ex-boyfriend,
Nick Jonas
. Ooooh the drama.
Miley Cyrus & Mandy Jiroux vs. Demi Lovato & Selena Gomez

While all of this is certainly the stuff of normal high school angst (well, maybe not the half-naked picture part…that almost seems to be a uniquely Disney problem - remember
Vanessa Hudgens
?), it is being played out in public, and jeopardizing the insanely expensive investment Disney has made in a fifteen-year-old girl.
Given that these young girls seem to inevitably encounter troubles during or after their time as Disney cash cows, does Disney owe them any kind of preventative measures? Should it provide the guidance of someone outside of the normal publicist/agent realm, who has only the young star's best interest at heart, to help them make it to adulthood as semi-normal members of society? The answer has to be yes. While it's true that Jamie Lynn, Lindsay, and Miley have gained a lot from their work with Disney, they have lost a lot, too. They lost the opportunity to develop in normal surroundings and be treated as normal teenagers. Even though the chance to be treated like an adult at fourteen or fifteen years old sounds appealing, it doesn't do much to aid the normal, and therefore favorable, progression into young adulthood. Too much too early is never a good thing. It seems like Disney should respect its stars enough to keep them in check, and ensure they have futures beyond becoming child-star has-beens on "Celebrity Rehab" or "
Celebrity Fit Club
."
So, where should this guidance come from? Maybe from a former child star. They would know all of the pitfalls of the industry and its culture, and could coach young stars about who to trust and how to take what is beneficial and leave what isn't. Even more than that, though, it seems like these young girls need protection from themselves and the shortsighted decisions that adolescent brains often make. As an example, it certainly would have benefited Miley to have someone to squelch the YouTube video that resulted from what was probably a fleeting, mean girl-type impulse. Even this, though, represents a trade off. The stars would have to give up a significant portion of their privacy and autonomy to an outsider, which could breed resentment and backlash. The next best thing, then, would be someone who isn't an outsider, like, say, hmmmm…
A PARENT
.
No matter how much Disney, the public, and the industry suck out of them, no one really owes these stars anything. It's their parents that owe them, simply by virtue of the fact that they are parents. They should be the ones guiding and watching over their kids, and not letting them pose with tousled hair in a bed sheet or drinking at clubs when they're seventeen. Parents are the caretakers, corporations are not. Is it desirable that a huge conglomerate is able to take what they need from a teenager, and not have to take responsibility for the effect it has on that teenager's life? No, but it's even worse when a parent appears to shirk that same responsibility.
Story by
Sarah Levin
Starpulse contributing writer