Disney Star Zendaya Earns Top Score On 'Dancing With The Stars' Premiere Night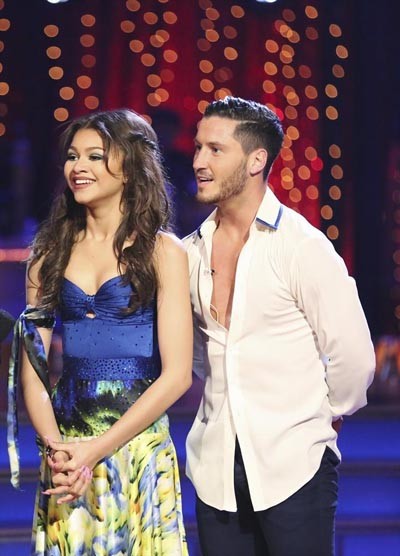 After a season of All Stars on "Dancing with the Stars," 12 new couples take to the dance floor for a whole new season. Along with the new dancers are two newcomers to the show and five Mirrorball champions. Along with the new dancers are some new dances being introduced that are not traditional Ballroom dance.
First up was Country singer Kellie Pickler and Derek Hough with a Cha Cha that the judges said was fun, full blast, fantastic, and incredible. Kellie and Derek scored 21 points for the first dance of the new season.
Boxer Victor Ortiz is paired up with newcomer Lindsay Arnold for a Foxtrot that while the judges called it charming and debonair, they felt that Victor needs a little work. Victor and Lindsay scored 18 points for the dance.
Actor Ingo Rademacher and Kym Johnson performed a Contemporary dance that brought mixed remarks from the judges; Len noted that the pair could do lifts but wanted to see them dance, but Carrie Ann and Bruno liked what they saw. Ingo and Kym scored 20 points for their dance.
Lisa Vanderpump – and her dog – paired up with Gleb Savchenko for a Foxtrot that Len called acceptable but not exceptional; Bruno agreed but while noting that she was out of sync, Carrie Anne thought the dance suited Lisa. The couple scored 18 points for their dance.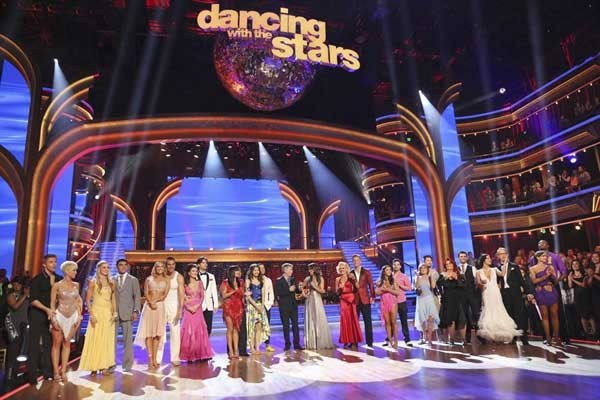 Actor D.L. Hughley and Cheryl Burke performed a Cha Cha that earned them the lowest scores of the night with 12 points when the judges said he had no feel for the music or timing and needed to do a lot of work for next week.
Disney star Zendaya is the youngest celebrity to appear on DWTS at 16. She paired up with Valentin Chmerkovskiy for a Contemporary dance that had Carrie Ann cheering, Len said was great and Bruno called superb; adding that he couldn't wait to see more from Zendaya. The pair scored the highest points of the night with 24.
"The Bachelor" Sean Lowe has picked his bride and is looking to learn to dance for their wedding. He and partner Peta Murgatroyd performed a Foxtrot that Len said lacked finesse and Bruno compared to a Chip 'N' Dale performance. Sean and Peta scored 19 points for their Foxtrot.
Gymnast Ali Raisman and Mark Ballas performed a Cha Cha that while Carrie Ann thought was safe, Bruno and Len were impressed. Ali and Mark scored 21 points for their dance.
Figure skater Dorothy Hamill and Tristan MacManus performed a Contemporary dance amid a winter scene complete with snow that Len said should be proclaimed an area of outstanding beauty and Carrie Ann called just golden. Dorothy and Tristan scored 21 points for their dance.
Grammy Award winner Wynonna Judd paired up with Tony Dovolani for a Cha Cha as her family watched on from the audience. While the judges thought the dance had rhythm and personality, they agreed that Wynnona could give more. Wynnona and Tony scored 18 points for their dance.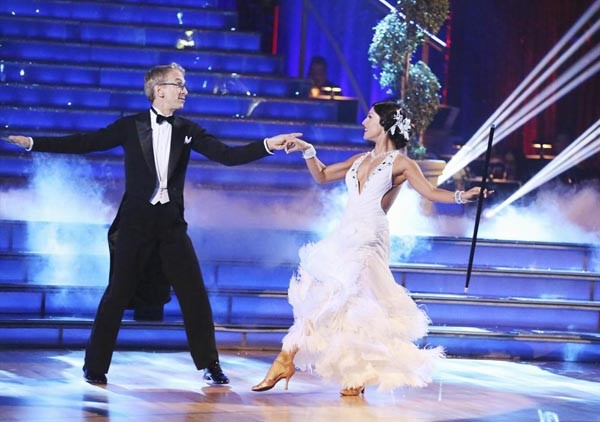 Actor Andy Dick paired up with newcomer Sharna Burgess for a Foxtrot that Bruno called comedic, Len said had moments of sophistication, and Carrie Ann compared to an ugly duckling coming alive. After nearly quitting from hard times in rehearsals, Andy and Sharna scored 17 points for their Foxtrot.
With only a week of rehearsals (due to knee surgery) football player Jacoby Jones performed a Cha Cha with DWTS champion Karina Smirnoff that brought mixed reviews from the judges; with Carrie Ann saying it looked like a medley of touchdown dances and Len called all icing but no cake. Jacoby and Karina scored 20 points for their Cha Cha.
This season the dancers will have two opportunities to impress the judges and fans before the first elimination is made.
First Night Scores:
D.L. and Cheryl – 12
Andy and Sharna - 17
Victor and Lindsay – 18
Lisa and Gleb – 18
Wynnona and Tony - 18
Sean and Peta - 19
Ingo and Kym – 20
Jacoby and Karina - 20
Kellie and Derek – 21
Ali and Mark – 21
Dorothy and Tristan - 21
Zendaya and Valentin - 24