Disney Pulls Joy Division T-Shirt After Fan Outrage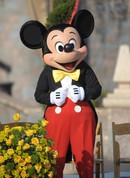 Disney bosses have pulled a new Joy Division-inspired T-shirt from stores after fans of the cult British rock band expressed their outrage at the group's apparent association with the family entertainment brand.

The garment, sold at Disney theme parks, features Mickey Mouse's silhouette in the iconic artwork of Joy Division's 1979 album Unknown Pleasures.

Bassist Peter Hook recently admitted he was flattered by the design, admitting he "can appreciate the irony" after years of avoiding overt promotion as a young rocker.

He told the Los Angeles Times, "I take it as a compliment. If I had a pound for every time someone bootlegged Joy Division, I'd be as rich as Disney. But it's interesting in a kitsch way. It's this cross between something very adult and this well-known image of childhood."

However, the band's devotees have not been as kind and have been taking to Twitter.com to trash Disney bosses over the T-shirt design.  And the uproar has prompted Disney executives to remove the item from retail and review the matter for themselves.

A representative says, "As soon as we became aware there could be an issue, we pulled it from our shelves and our online store to review the situation further."