Disney Launching New 'Star Wars' Animated Series In 2014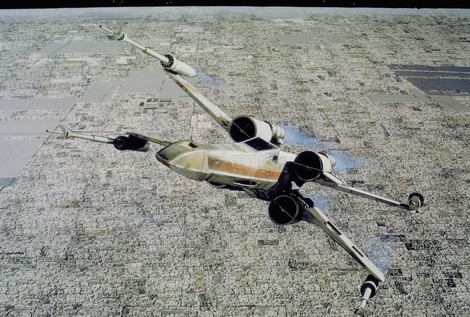 Just months after acquiring Lucasfilm in a multi-billion-dollar deal and announcing a plan to continue the Star Wars movie saga well into the future -- starting with "Star Wars Episode VII" in 2015 -- Disney has announced the development of a new animated series, "Star Wars Rebels," which is set to premiere in fall 2014.

The announcement comes on the heels of the studio's cancellation of the Cartoon Network's "Star Wars: The Clone Wars," animated series, a move that was made because the show aired on the rival network, owned by Time Warner.

Like Clone Wars, which took place between prequel movies Star Wars: Episode II - Attack of the Clones and Star Wars: Episode III - Revenge of the Sith, the new series is set to bridge the 20-year gap between the two movie trilogies; beginning after the events of Sith, leading up to the events of Star Wars: Episode IV - A New Hope.

The new series will focus on the rise of the Galactic Empire and its mission to eradicate the last of the Jedi Knights while the underpinnings of the Rebellion are set in place. Further details about which characters will appear in the show are a secret for now.

Production on the series has already begun, according to a press release posted on StarWars.com. Producer and screenwriter Simon Kinberg (X-Men: First Class, Sherlock Holmes) will executive produce "Star Wars Rebels." He's set to write the premiere episode of the show and is also a consultant to J.J. Abrams, who will direct the upcoming Episode VII.

Kinberg will be joined by Dave Filoni, who served as supervising director of "Star Wars: The Clone Wars" since it debuted in 2008, and Greg Weisman, who brings a wealth of animation expertise to the project. The show is set to premiere in late 2014 with a one-hour episode on the Disney Channel and move to sister channel Disney XD for weekly episodes.

"The entire team at Lucasfilm has provided extraordinary creativity and innovation for over three decades, and we're thrilled to be bringing the expansive and imaginative world of Star Wars to Disney XD's viewers," said Gary Marsh, president and chief creative officer of Disney Channels Worldwide.

Kathleen Kennedy, who George Lucas named president of Lucasfilm last summer, adds, ""I couldn't be more excited to explore new corners of the Star Wars universe. I think Star Wars Rebels will capture the look, feel and fun that both kids and their parents love about Star Wars."

Fans attending the upcoming Star Wars Celebration Europe will be the first to get a look at the new series.

Watch as writer/Star Wars expert Pablo Hidalgo talks with executive producer Dave Filoni about the new series below...