Disney Dress Battle: Demi Lovato Vs. Selena Gomez At The Kids Choice Awards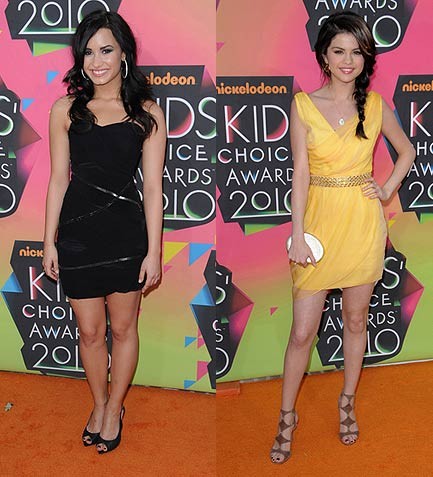 Selena Gomez caught our eye at the Kid's Choice Awards over the weekend in a yellow Christian Cota dress with Sergio Rossi shoes. And Demi Lovato looked fab in a Black Faith strapless dress. But which starlet owned the red carpet?

Demi and Joe Jonas officially "came out" as a couple at the event.  The Disney sensations grew close after appearing together in movie-musical "Camp Rock" in 2008. Earlier this month when asked by "Access Hollywood's" Billy Bush">Billy Bush if she was dating the star, Demi replied, "Yeah. He's actually... he's my best friend."

Meanwhile, Selena has stepped in for Nicole Kidman">Nicole Kidman in upcoming movie "Monte Carlo">Monte Carlo" after producers decided to give the script a more youthful spin. The comedy is based on the book "Headhunters" by Jules Bass.
Don't forget to vote on Dress Battle: Olivia Wilde vs. Victoria Justice, too!
Click the pics for larger images:
- Click here for more Demi Lovato pictures! -
- Click here for more Selena Gomez pictures! -