Disney And James Cameron Reveal Artist Renderings For Animal Kingdom's 'Avatar Land'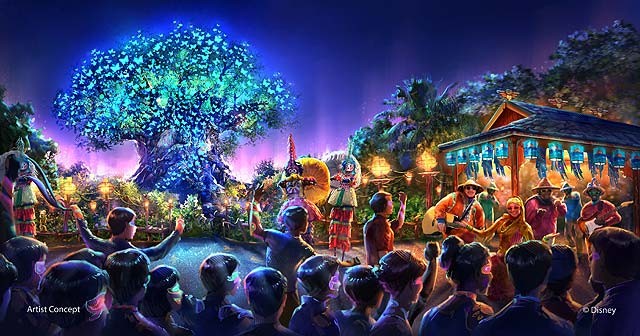 The planet Pandora, from James Cameron's epic science-fiction film Avatar, is heading to Disney's Animal Kingdom in the form of a new theme park attraction.

The first news of the collaboration between Cameron's Lightstorm Entertainment production company and Walt Disney Imagineering was released last month, and over the weekend the filmmaker joined Disney's Tom Staggs and Joe Rohde to show off some concept renderings of the new theme park attraction while at Disney's biennial D23 Expo in Japan.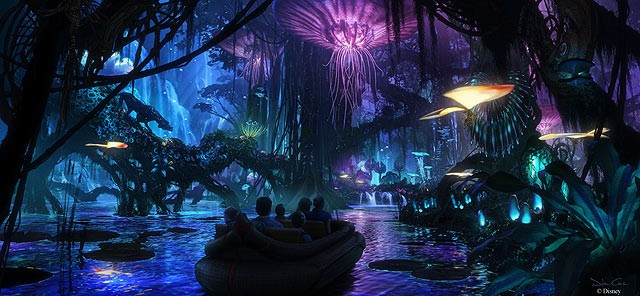 Dubbed "Avatar Land", the project will cost $400 million, making it the largest expansion to Animal Kingdom ever.

"Our goal is to go beyond current boundaries of technical innovation and experimental storytelling, [and to] give park goers the chance to see, hear and touch the world of Avatar with an unprecedented sense of reality," Cameron said in a statement last month.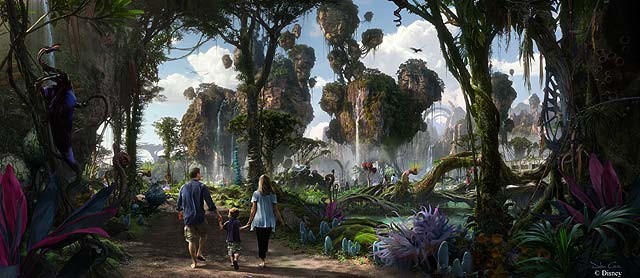 Plans for some of the park's new features include a bioluminescent rainforest, the film's majestic floating mountains, and some of the planet's wildlife, including the Banshees, which various characters in the film rode through the skies of the planet. Fortunately, visitors won't need any special breathing apparatus to experience any of the thrills of the alien world when the attraction opens in 2017.

"Avatar Land" will also bring new nighttime experiences to the park, which usually closes in the early evening, including a nighttime version of the current Kilimanjaro Safaris.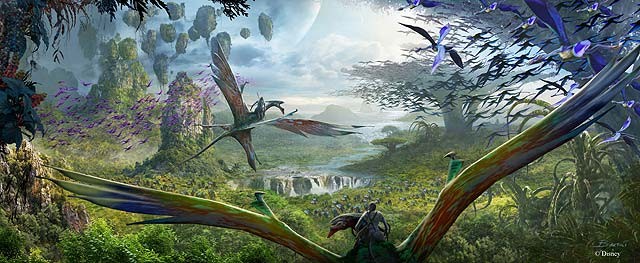 The 2009 film, which starred Sam Worthington, Zoe Saldana and Sigourney Weaver, grossed $2.78 billion globally, making it the highest grossing film of all time.

Cameron announced on August 1 that three sequels to the film will be made, and that screenwriters for each film have signed on and will write the films based on Cameron's stories. The first film is expected in December 2016.

Construction on the new theme park attraction is slated to begin in 2014.