Dishing The Dirt With 'Hollywood Exes' Star Daphne Wayans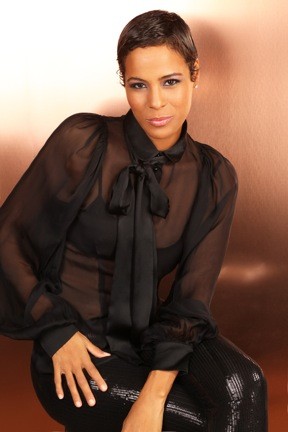 VH1's "Hollywood Exes" centers around a group of women who are all former spouses of celebs. The show had such a successful first season that it is now back for a second round. Fashionista Daphne Wayans, ex-wife of Wayan's brother Keenen Ivory, joins the season 2 "Exes" cast. In this exclusive interview, Daphne talks about what it was like to be on the show, her family and how she really feels about her ex.  
SP: What made you decide to become a part of "Hollywood Exes"?
Daphne Wayans: Well, it was rather easy. I was apart of the cast that originally pitched the idea before it was picked up by VH1. I didn't shoot the first season, deciding to sit it out and observe. I liked what I saw and, considering the ladies were already dear friends of mine, it just naturally fell into place. Plus, I thought maybe I could offer a new outlook on friendships between women and the beautiful sisterhood that could exist, which I knew to be true, as I was sharing it with these women.
SP: What was your favorite part of being on the show?
DW: My favorite part of being on the show was getting to see my friends under the guise of work. I so love these women and it's always warm and fuzzy when we're together.
SP: Were you involved in any drama?
DW: Nope. Proudly, not a lick. I really try to keep my personal and professional life drama-free. That is not to say that "situations" don't arise; but I really do my best keep it free of excessive, heightened emotion, aka drama, and rather push through towards solutions.
SP: Has the show been stressful for your children?
DW: It hasn't been stressful for the children at all. They are used to a life that has a lot of motion in it. What would be chaotic to most is quite normal for them. I am also sure to never miss a beat with them. I make my responsibilities as a mother to them my most senior priority. So all must be very orderly and very coordinated for this to come true.
SP: Tell me about your background in fashion.
DW: Well I went to school for a few years at Fashion Institute of Design and Merchandising. I loved being immersed in the fashion world and especially loved learning about the history of fashion. But quite in addition to that, I just love how much there is, especially for women, to express your individuality via our fashion.
SP: What's one thing that most people don't know about you?
DW: Hmmm. That's tough, because I'd like to think I present myself as rather transparent. I guess it's that I can be quite a dichotomy, that I'm very silly (one of the greatest joys of my day is when I can laugh so hard it's difficult for me to even breath – see me on Keek) and that I am also very serious about creating my own happy life and the effects of such joy trickling down to others.
SP: If you could be a part of any other reality show, what show would you choose?
DW: "The Voice" if I could sing! Hands down, "Modern Family" – but that's not reality. Maybe the Gong Show. Oh no, wait Robin Leach's "Life Styles of the Rich and Famous"! Yes! I always dreamed that I was him, with the accent and all!
SP: Are you still friendly with Keenen?
DW: Not only are Keenen and I still friendly, he is one of my best friends – not to mention we are very much still family. We've share too much, created too much together to not continue with what we've always had – a beautiful friendship.
SP: Aside from being a mom, what is your dream career?
DW: In all honesty, being a mother and a wife has been my dream career. But in addition to that, I know this is going to sound crazy, but my children all know that I have a secret fantasy to be in Cirque du Soleil, specifically "O."
SP: What upcoming projects are you working on?
DW: My upcoming and continual project is ME! As I am a work-in-progress, with a tremendous joie de vivre, it is ever changing and I am the product of such zeal, like a Zest For Life Mélange. Stay tuned.