DISH Helps Red Cross and Hurricane Sandy Victims with Satellite TV and Internet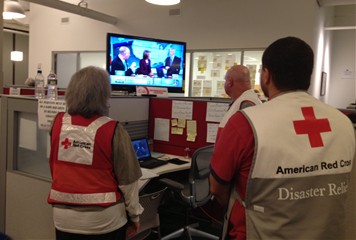 As I mentioned in a previous post, I live in Hoboken, NJ which was hit hard by Hurricane Sandy. While I was lucky that power and cable/Internet came back within about five days, not everyone was so lucky.
My cable/Internet came back almost a full day after power was restored. My satellite TV service however? It was completely fine once the power came back on.
(I've been testing satellite service from DISH for the last few weeks and will have a full review by the end of the year, as well as periodic posts until then. DISH has provided this service to me so I can test it.)
Sure, it was great to catch up on some shows via DISH, but more than that, we had an election coming up and I also needed local news to see what was going on elsewhere in my community.
It turns out DISH recognized the need too. They provided satellite service and high-speed Internet in Red Cross relief centers in NJ and NY according to a recent blog post.
For instance, thousands of displaced residents were able to watch election night returns last week.
According to the Red Cross, "For clients in shelters, up-to-date information is critical. Clients who are staying in shelters have the opportunity to email family in non-impacted areas and to be able to watch nightly news and see updates on recovery efforts. Each day, because of the reliability of DISH services in Red Cross shelters and operations headquarters, more accurate decisions can be made."
There's always that old joke that if it rains really hard, your satellite service is going to be out. But after Sandy, it was one of the first things I was able to access again, while me and other friends had to wait days for cable to return.
This isn't something I planned to test, but it certainly informed me of a positive over cable TV service that I hadn't expected.