'Dirty Jobs' Cancelled: Mike Rowe Thanks Fans And Discovery For A Great Run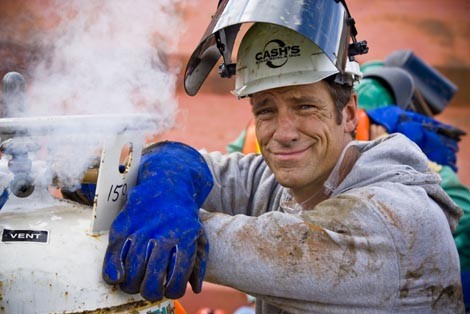 One of the most unique, inventive, fun and honest shows on TV has just been cancelled. Dirty Jobs has entertained us for years on the Discovery Channel and earlier this morning it was announced that it would be entering its next phase called "permanent hiatus," described Mike Rowe in a heartfelt editorial on Huffington Post.
"My first instinct was to immediately pass the news on to you, but frankly, it's taken me a few weeks to digest. Dirty Jobs is a very personal show, and it's difficult for me to imagine a future that does not involve exploding toilets, venomous snakes, misadventures in animal husbandry, and feces from every species. Nevertheless, the future is here, and while it does not appear to contain any more Dirty Jobs, it will almost certainly include another Thanksgiving" said Rowe in the editorial.
Mike went on to thank Discovery executives, his crew and most of all his fans: "Anyone who's ever had any good fortune in this fickle business knows who really calls the shots -- it's not the networks or the production companies or the on-air personalities -- it's the people who watch. And the people who watched Dirty Jobs turned out to be far more curious than your average channel surfer," wrote Rowe.
He then looked forward to the future, "As for me, good things are in the works. Not as dirty perhaps, but exciting nevertheless. I'm looking forward to the future, and feeling grateful for the past. As for the present, I'm going to eat the lions share of a large turkey waiting for me in the next room, drink some Champagne, catch up with family, watch the football game, and sleep till Christmas. Thanks again, and Happy Thanksgiving."
In a TV world full of ridiculous narcissistic pointless reality shows, Mike Rowe's Dirty Jobs was breath of fresh air – always honest, entertaining, educational, fun… and yes, dirty. Thanks Mike.
You can read the full editorial here.