'Dirt' Season Two Premieres Sunday, March 2

The second season of
Dirt
, starring
Courteney Cox
, will premiere on FX Sunday, March 2, 2008 at 10 PM ET/PT.
Ian Hart
,
Josh Stewart
and
Alexandra Breckenridge
also return as series regulars.
Guest stars include
Julian Acosta
,
Tom Arnold
,
Laura Allen
, Ryan Eggold,
Rick Fox
,
Ashley Johnson
,
Richard Karn
,
Sharon Lawrence
, Will McCormack,
Larry Miller
, Jeffrey Nordling, Pablo Schreiber and Kevin Wheatley.
Rosanna Arquette
is a special guest star in episode 6.
Dirt, a dramatic satire of celebrity culture, reveals the life of Lucy Spiller (Courteney Cox), the stalwart, unrelenting editor-in-chief of the celebrity tabloid magazine Dirt Now. With an uncanny sixth sense for the truth and an infallible instinct for cover-ups, Lucy exposes the secrets and lies of the famous and the infamous through her magazine with rancorous accuracy. Thanks largely to exclusive, revealing pictures of reigning celebrities captured by ardent photographer Don Konkey (Ian Hart), Dirt Now exhibits show business imagemaking to reveal the often-repugnant truth behind ambition, fame and yearning.
The second season of Dirt continues where the first season left off: Lucy lays bleeding and unconscious after a brutal, in-home attack at the hands of actress Julia Mallory (Laura Allen), whose career was destroyed by Dirt Now. Don Konkey struggles to overcome his schizophrenia through medication as he is shattered by Lucy's assault. Holt McLaren (Josh Stewart), no longer living with Julia, ascends to A-list stardom. Willow McPherson (Alexandra Breckenridge) has ended her affair with Dirt Now publisher Brent Barrow (Jeffrey Nordling) and is no longer the naïve, neophyte reporter on Lucy's staff.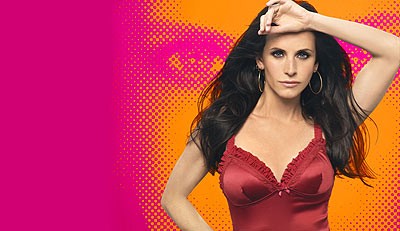 In its first season, Dirt averaged 3.7 million Adults 18-49 and 5.2 million total viewers in a weekly multitelecast cume. The series, which films in Hollywood, California, was created and is executive produced by Matthew Carnahan. Courteney Cox,
David Arquette
and Joel Fields are executive producers. ABC Studios and FX are co-production partners in association with Coquette Productions.
ABC Studios has emerged as a leader in the development, production and strategic distribution of entertainment content across television and emerging digital platforms. The studio's focused balance of creativity, management and technology has yielded 23 diverse productions in the 2007/08 season on seven broadcast and cable networks. ABC Studios is part of Disney-ABC Television Group, a division of The Walt Disney Company.
FX is the flagship general entertainment basic cable network from Fox. Launched in June of 1994, FX is carried in more than 94 million homes. The diverse schedule includes a growing roster of distinctive original series and movies, an established film library with box-office hits from 20th Century Fox and other major studios and an impressive roster of acquired hit series.