Director Refused James Franco A Role In 'Twilight: Breaking Dawn'

James Franco was so desperate to be a part of the hit "Twilight" franchise, he reached out to director pal Bill Condon to cast him in a role - only to have his pleas snubbed.
 
The star has made no secret of his love for the vampire phenomenon, and has even admitted to studying the novels to gain inspiration for his own planned children's book.
 
But his attempts to land a part in the "Twilight" sequels were unsuccessful, despite being good friends with the director of the third movie, "Breaking Dawn," who he worked with on biopic Milk.
 
He says, "I wanted to be a part of that movie by the way, the last two movies. I asked Bill Condon if I could be in it and he turned me down."
 
But Franco maintained his friendship with Condon and when the filmmaker landed the job of working on the 2011 Academy Awards, he contacted the actor to get him involved.
 
Franco suggested a duet with Twilight hunk Robert Pattinson, but that decision was scrapped. However, Condon was so impressed with the actor's ideas for the movie ceremony he decided to hand Franco one of the most important jobs of the night - as co-host alongside Anne Hathaway.
 
Franco says, "We'd been talking for about six months about doing something and I wanted to do a bit with the Twilight kids. So then I thought, 'Maybe I could sing with Rob Pattinson or something at the Oscars,' and then we figured they took things a little too seriously and they wouldn't be up for that.
 
"Then, about two weeks ago, he (Condon) called up and was like, 'I got it, I know what I want you to do. I want you to host!' It was a shock... I had three days to think about it and then I thought, 'Of course, I have to do it. It's kind of a once in a lifetime thing'. I think it's better to do it when I'm young."
 
But Franco admits there's another reason he agreed to present the show - to take off any pressure should he land a Best Actor nomination for his critically-acclaimed role in survival drama 127 Hours.
 
He adds, "People have been saying I might get nominated for 127 Hours, but, if you think about it, it will drive you crazy... And Bill said, 'You know, a host has never won.' So I thought, 'If I host, it's taking the pressure off.'"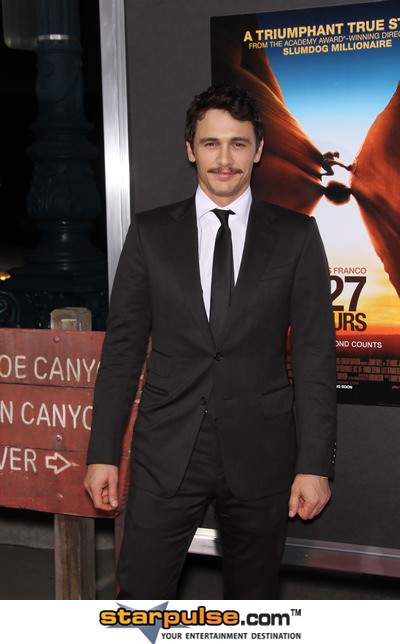 Click for more great James Franco pictures: