Director Lasse Hallstrom Reteams With Nicholas Sparks For 'Safe Haven'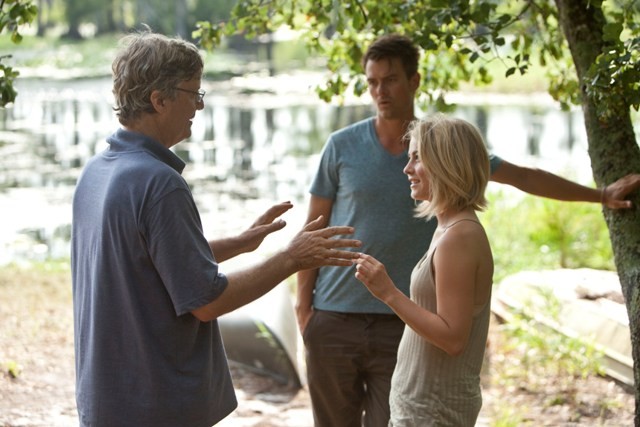 Today is opening day for Safe Haven, the romantic drama starring Josh Duhamel and Julianne Hough, and based on the novel by Nicholas Sparks (The Notebook, A Walk to Remember). The film is helmed by director Lasse Hallstrom, who previously teamed with Sparks on the adaptation of Dear John. BFTV spoke with Hallstrom at the movie's press day on Friday to find out what interested him in working on another Sparks film, and his unique directorial approach for Safe Haven.
"It was basically a phone call from the producer that I worked with on Dear John, Marty Bowen," said the Academy Award-nominated director (pictured above left with Duhamel and Hough), explaining how he came aboard the film. "He said 'I have another Sparks story, would you consider it?' And I would, because I really enjoyed working with that particular producer. We had such a good experience. Also, all the Sparks [novels] are stories that are driven by character and not sacrificing character for a film."
With any adaptation of a book to the screen, the natural question is how much of the text makes that transition. For example, the ending of the novel A Walk to Remember is much more ambiguous than that of the film, and while the book is set in the 1950's, the movie takes place in the 1990's. Asked how much of Safe Haven adheres to the novel, Hallstrom said, "I don't think people will be upset that they're not recognizing enough from the book. We had basically the backbone of the story. When it comes to dialogue [and] details, we have a respect for the source material, and we've been playing around with it, adding our own ideas."
The director took the different step of asking his actors to step away from the script and improvise certain scenes in the film. How did he decide which scenes were right for that approach? "You know that pretty quickly," he said. "There's a scene, for example, with the girl [Katie, played by Hough] handing over a fish that she caught to the guy [Alex, played by Duhamel]. There's a scripted version; there's also potential for a long improvisational one. And then you might make a combo of the improvised material that you have and the scripted material."
"I like the improvisational tone of it," he continued, discussing what stands out to him about the picture. "It feels fresh and authentic. I'm happy about the performances in general, that they feel real." In that respect, Hallstrom singled out the performance of young actress Mimi Kirkland, who plays Alex's daughter Lexi. "She's very real," he said. "That's a hard thing."
Hallstrom is no stranger to making memorable films, particularly those adapted from literature. He's been nominated for two Academy Awards, including for 1999's The Cider House Rules, which was from the novel by John Irving. Other films on his resume include 2000's Chocolat, 2001's The Shipping News, 2011's Salmon Fishing in the Yemen, and the 1993 cult classic What's Eating Gilbert Grape, all of which began life as books.
Asked which of his films that he would recommend to people who enjoy Safe Haven, the director said, "I would go with a Swedish movie called My Life as a Dog, or maybe Gilbert Grape or Cider House Rules." One of his favorite movies is the Woody Allen classic Annie Hall. "That's my favorite romance movie," he added. "It's also one of my favorite movies ever because it tells very truthfully about love, with a great sense of humor."
He's hoping that Safe Haven can strike a similar chord with people who go to see it. "My ambition was to be as real as possible with the performers, with the story," Hallstrom said. "That would be my goal, in doing that, [to] have you recognize yourself in these characters, recognize situations and emotions, and relate to it, knowing that you're not alone."
Safe Haven is in theaters now. Watch the film's trailer below, and for more information, visit the official Facebook and Twitter pages.
For more from Brittany Frederick, visit my official website and follow me on Twitter (@tvbrittanyf).
(c)2013 Brittany Frederick. Appears at Starpulse with permission. All rights reserved. No reproduction permitted.