Director Excited For 3-D 'Zombieland 2,' 'Zombies Splattering Into The Lens'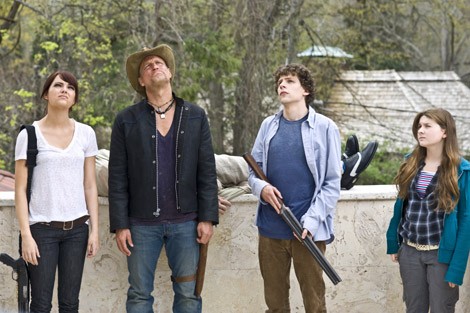 Reuben Fleischer is excited for the 3-D effect in the sequel to horror-comedy hit Zombieland. "I think it's cool to see stuff fly at your face. The idea of zombies splattering into the lens is exciting for me."
Fleischer directed the original, which went on to gross over four times its budget in the box office. In an interview with MTV News, he confirmed that he will be using 3-D cameras to film the sequel - instead of a post-production process that has become popular with films trying to cash in on the extra dimension fad.
While Zombieland 2 was announced in December, the director is still using "if" when it comes to the flick. "I feel like it just looks so much better. If you're going to make a 3-D movie, go ahead and make a 3-D movie. I would definitely, if we do 'Zombieland 2,' make it in 3-D and want to shoot it in 3-D."
There are no deals in place with the original's cast, but Fleischer says Woody Harrelson, Emma Stone, Abigail Breslin and Jesse Eisenberg are all "excited to return."
Read the entire interview on MTV.com.