Director Adam Shankman Uses Facebook To Find 'Rock Of Ages' Extras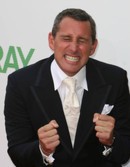 Rock Of Ages director Adam Shankman has launched an appeal on Facebook.com to find extras for the movie musical.

Tom Cruise, Alec Baldwin, Russell Brand, Paul Giamatti and Catherine Zeta-Jones are among the star-studded cast currently filming the rock 'n' roll film extravaganza, and Shankman is giving fans the chance to share the screen with their idols.

He's opened up a casting call to users on the social networking site, urging fans to head to the Sun Life Stadium in Miami, Florida on Monday for the shoot - and he wants them to dress to impress.
 
A post on Facebook reads, "Are you ready to get your faces melted? Director Adam Shankman invites you to the set of New Line Cinema's arena-rock love story 'Rock of Ages,' who is (sic) throwing one head-banging concert party for the upcoming filming of a scene in the Fort Lauderdale area."

"Come and bring your friends to all be extras (16 years and older only please), and join us on the 'Rock of Ages' set, and rock out like it's 1987 with our cast to the sounds of such hits as 'Wanted: Dead Or Alive' & 'Don't Stop Believin'.' DRESS: Like the 80s! Big hair, make-up, and ALL BLACK rockin' clothes."