Dina Lohan: Lindsay Is Messed Up Because Her Father Is Messed Up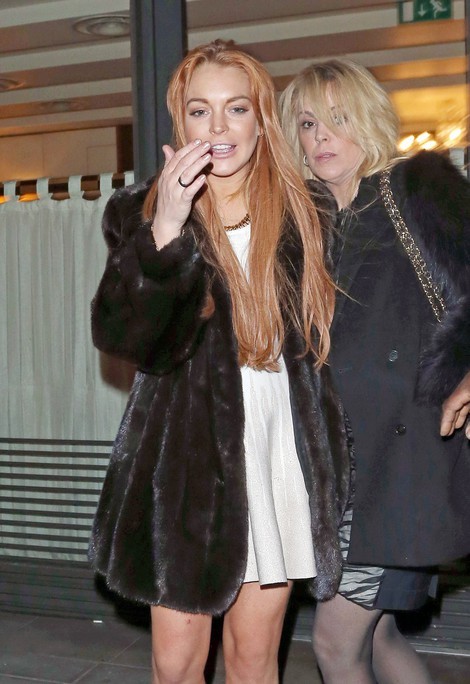 Here we go again. Dina Lohan spoke out over the weekend, alleging that ex-husband Michael was violent during their marriage and even raped her on one occasion.

Dina blames the couple's tumultuous marriage on her daughter Lindsay's troubled lifestyle, according to an interview she did on Sunday with the New York Daily News.

"Lindsay saw her dad abuse me — that's why she's so screwed up," she told the Post. "She saw a lot of crazy stuff. I want the world to know the root of her problems."

During Michael and Dina's 22-year marriage there were several instances of domestic abuse -- each of which Michael denies -- but Dina backed most of them up with medical records and photographs during the interview with the Daily News.

Speaking on a 1986 incident, Dina showed a photograph (see it at ET.com) of herself holding a baby Lindsay in her arms and having a purple bruise under one of her eyes. "Michael beat the hell out of me," she said.
She explained that her husband was driving drunk and high on cocaine one night when they went out, and he  freaked out on her, ultimately punching her in the face and bruising her cheek. Dina's parents brought her to the hospital, according to medical records, but Michael doesn't remember the bruising incident happening like that at all.

"I came in at 2 o'clock in the morning after being out with some friends," he explains. "I walked in and she hit me with an ice tray. With the back of my hand I slapped her in the face.

"Yes, it did happen in 1986. Were there any charges? No, not at all. I had a big black and blue on my neck from her," he adds.

The couple tried to make things work, and when Michael was released from prison in 1990 (jailed for insider trading) he tried to convince his estranged wife to give him another chance.

"He said, 'I love you and I want to be with you,' but then it went dark," Dina says. "It went dark really quick."

Dina says that Michael came to her parents house after his release, the place where she was staying with the couple's four children, and then she says that he raped her.

"[The children] were sleeping, and I just knew I had to stay quiet — I don't want to wake them," she said.

But charges were never pressed despite Dina going to the hospital and reporting the rape; she knew Michael was already heading back to the slammer for three more years on more insider trading charges and she didn't want to prolong things.

But, again, Michael denies his ex-wife's strong allegations.

"How can you rape a person when they're on top of you?" he says. "I went over to her parents' house and made love to her. When I left and she called me, she found out I was with [the girl he was dating after they separated] and called police.
"Then she called me the next day, crying. I said, 'Let's work this out.' And I got back with Dina. There were no charges," he adds.

But Dina's standing by her story, saying she's decided to share her ordeal to "set the record straight" so that the world is "aware that Lindsay is messed up because her father is messed up."

And, of course, Michael has fired back at his ex-wife, saying that lately she's been drinking and partying with Lindsay and that she keeps "robbing" his daughter, calling Lindsay Dina's main income source.

"She is the devil," he says.