Dina Delicious: "We All Need A Little Education"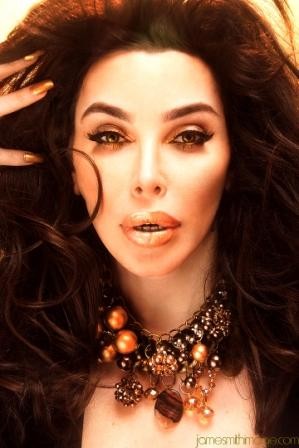 Starpulse columnist Jeza Belle caught up with the gorgeous and talented, Dina Delicious. While together, Dina opened up about her new music, the Wendy Williams Show transgender-shaming episode, and what's most important to her as an artist.
Describe your music style for our readers:
My style is definitely dance / pop, but the root is definitely pop music.
Do you write your own music?
I write all of my music except, of course, "Two of Hearts". Generally, I collaborate with others, but it all starts with an idea that I have and I usually write the hook, name it and collaborate to polish it. The ideas and the melodies are usually mine.
Speaking of Two of Hearts, you version received a fair amount of praise. What inspired you to do the song?
I always thought there was great vulnerability to the song that I wanted to bring to it. Stacey Q of course famously remade the song, and I really loved her version, very bubblegum pop. I added my own take on it and released it last year around Gay Pride, and it wound up resonating with the gay community. I had such a great time with that song and it will always be my favorite!
What music are you currently working on?
We are working on a new EP of all new original dance music.  Five songs are done right now and ten are written for the EP. I'm about to release a new single in six weeks, "Tick, Tick, Trick" and I'll be doing my first video for this song, do I'm very excited! It's a go "F" yourself kind of break up song, but also a fun pop song, which I'm so proud of, and I can't wait to share it!
Who has inspired your music?                
I'm very inspired by Madonna! I like her later stuff lyrically, and her earlier stuff for the fun and pureness of it.  Of course, I love Nile Rogers, who worked with Madonna, but also he's in Daft Punk, which I love to listen to! As a kid, my mother used to play Donna Summer all the time, so I couldn't help but dance to her. I'm a huge Doctor Luke fan, who's a big producer in L.A. Also, I'm very into Lorde right now. I love both her music and her voice. Oh, I just like everybody!
Does being a transgender-artist matter, or is it really just about being a great artist?
It's all about being an artist. Being a "trans" artist matters to other people more than me.  I'm far more interested in being able to create and share what I have to say with the world. If it touches and inspires someone, that's great! If they are offended by it, that's great too!
What words of wisdom would you have for anyone growing up who has a dream?
You have to live your dreams, believe in your dreams then you can become your dreams.  You have to want something more than you want anything else and that it's embedded in you.  Work hard at believing in yourself and not all of the bullshit that the world is going to throw on you. Go forward no matter what and keep your eye on the prize.
Let's talk about what happened on the Wendy Williams Show last week regarding CrossFit althlete Chloie Jonsson's controversy.
It really upset me, because for me, I'm part of a community… the human race. To see people sit around a table and shame any human being is very sad, which is what I felt went on during the Wendy Williams Show…trans-shaming.  By calling Chaz Bono a she for example…it dumbs us all down. We are fighting so hard for rights, and yet we can't honor and respect each other.  There's still work to be done, especially around trans-issues.   It's not just Wendy Williams, who is a GLADD ambassador; it goes to show that we all need a little education. 
There was some backlash about Jared Leto both playing a transgender role and winning an Oscar for it in Dallas Buyers Club without thanking the transgender community. What are your thoughts on that?
It's a fine line that we have to be careful about. I'm encouraged and want Hollywood to keep writing transgender characters. While there are arguments on both sides, Jared Leto won the Oscar and did a great job, congratulations! Would I have loved to have seen a transgender person play the role? Yes, but that said Jared Leto was great and I'm very happy with what he did.
Time to dish with the drag queen:
More important Boobs or Butt?
Oh….boobs!!!
Dream duet?
Madonna
The most stunning diva of all time?
My mother.
What's your ultimate dream of professional success?
As a kid I always knew I wanted to be a multi-media artist and do it all! I would love to do film, TV, music...I did go to the High School of Performing Arts after all. I am a trained actor. My ultimate goal though would be to be on Broadway! It will happen one day and I'm excited for when it does happen.  I am willing it into existence right now!
Finally, what are you future plans for the next few months are?
I will be headlining and hosting this year's New York City Pride Fest! I also hope to get out to San Diego Pride this year. In addition, I'm continuing to work with the Audre Lorde Project for equality. Finally, I'm looking forward to getting out there and traveling a lot, the Life Ball in Vienna etc., plus hosting parties such "Sunday Service" in New York City with some great friends that should be a lot of fun. I'm better when I'm wild and I have fun things to do, and this year I have lots of them!
To find out more about Dina, visit the Dina Delicious Official Website.