Digital Collapse Comes Together For Debut EP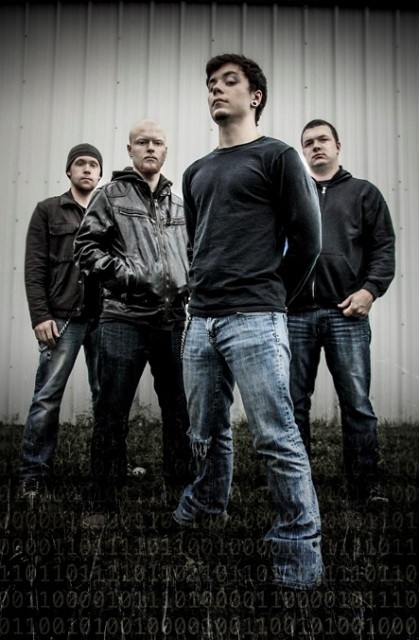 Digital Collapse is a living example of the phrase "picking up the pieces." The five members of the rock band - vocalist Corey Kipps, guitarists Ian Zuckerman and Tyler Metz, bassist Bryan Jackson and drummer Tom Godin - came together after other projects fell apart, and now they're enjoying the release of their debut EP, which arrived Tuesday. Before that, though, BFTV snagged a few minutes with Corey to get the rundown on what makes Digital Collapse different from everything they came out of.
"We feel a sense of authenticity with our musical approach, especially with us individually having separate experience from each other in bands prior to Digital Collapse," he explained. "For the most part, it has been somewhat simple for us all to combine our aspirations as a unit, as we all naturally share the same ideas on what a band must do to consistently move forward.
"Our creative standpoints are very diverse, but it never fails to make the product fresh and satisfying at the end of the day. We don't necessarily have a set writing method, however," he continued. "Sometimes we will construct little riff libraries and begin piecing songs together by jumping off of one of those riffs, and other times we will spend hours in the rehearsal room or studio constructing a new piece completely from scratch."
How did that varied approach translate into the creation of the new record? As it turns out, things were a little more nailed down. "The process of recording the EP was very clear and precise. We knew exactly what we wanted and we went in there and got it done," he told us. "We were confident in our vision and were able to let it flow from the heart with minimal interruptions or setbacks."
The band also had some help from Sevendust's Clint Lowery, who served as a producer on the project. "Clint's contributions to the product were organic and invaluable, and you can really feel his presence in the outcome," Corey added. "We felt that Clint - as well as the entire staff at Architekt Studios - genuinely cared about the construction of the record. They were very steady in sharing our objectives and bringing the EP to life in any way they could, and we are very grateful to have worked there with all of them."
Digital Collapse now prepares for the natural next step following a new music release: touring. "The majority of our recent time has been spent preparing for the road," he added. "We've enhanced our setlist from multiple angles, and we've come out with some new models of merchandise for the fans to enjoy. Our PR team is busy creating a buzz for the tour, and we are proud to have our journey furthered by their determination." They'll be playing live shows across the country this fall, including several dates opening for Nonpoint.
Whether the new EP is a smash or not, the band is glad that they've all come together for this new venture. "Leaving projects past to create Digital Collapse has shown minimal cons and a limitless supply of pros. We all knew that we wanted to make music our career and we came together to form this band and make it happen as a team," Corey said. "Luckily we have access to things this time around that we'd never had before in our previous bands - that being our own private studio, roadcases for all of our gear, and that each of us possess talents outside of music that directly impact the band on positive levels."
Now it's up to them to take advantage of this first step, and turn it into ongoing success. "We are very adamant in staying humble and alert in the opportunities that have been presented to us. We are always taking time to see the bigger picture from as much of an outsider's view as we can so as to not lose sight of the things we are grateful for," he continued. "We consciously try to take all of the correct steps, and we strive to maintain a strong level of professionalism to push this band as far as it will go."
The new Digital Collapse EP is available on iTunes; you can also give a listen to the band with the lyric video for "All My Fault" below.
(c)2013 Brittany Frederick. Appears at Starpulse with permission. All rights reserved. No reproduction permitted. Visit my official website and follow me on Twitter at @tvbrittanyf.