Dierks Bentley Donates $50,000 To Injured Soldier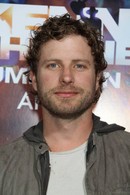 Country star Dierks Bentley made one wounded soldier's dreams come true by handing him a $50,000 check to help support his struggling family.

Sergeant Chad Sparks was serving in Afghanistan when he lost a finger in a freak accident aboard his military tank.

He returned home to his wife and one-year-old daughter but struggled to find work, and the pair had to sell off furniture, appliances and personal items to make ends meet.

Touched by the veteran's story, the Long Trip Alone hit-maker dropped by The Ellen DeGeneres Show on Wednesday to meet the awe-struck couple and present the Sparks family with a hefty donation, adding, "We are so honored by your service and sacrifice and all you guys do."