Die Antwoord 'Kills' Lady Gaga Lookalike In Music Video; She Strikes Back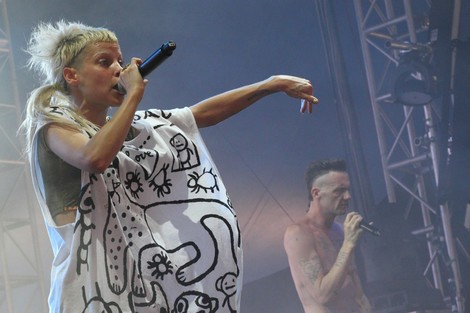 South African rap group Die Antwoord kills a Lady Gaga lookalike in its latest music video, and it isn't making the "Poker Face" singer very happy.
In the video "Fatty Boom Boom," a man dressed in Gaga's infamous meat dress is ridiculed and massacred by African rebels and mauled to death by a lion.
In another scene a gynecologist removes a shrimp from the fake Gaga's genitals, presumably a joke about past stories suggesting the singer is a hermaphrodite.
In response to the video, Gaga posted on Twitter, "i fink u freaky but you don't have a hit. hundred thousand tickets sold in SA. #thatsmys**t... i guess its not a good idea to tell someone you're a fan. never mind! we get it, you're not a little monster (fan)".
Die Antwoord responded, "lady... even tho (though) u r 'larger' than us... we still cooler than u... plus we don't have prawns in our private...(sic)".
The group, led by rappers Ninja and Yo-Landi Vi$$er, revealed over the summer that Gaga approached them  to tour with her, but they opted not to. 
Watch the "Fatty Boom Boom" video (WARNING: Explicit Language):