Diddy's Former Protege Shyne Is Now An Orthodox Jew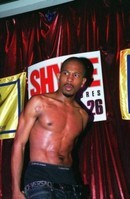 Shyne, the rapper who was convicted for his part in an infamous New York nightclub shooting, has become an orthodox Jew.
 
The Belizean-born hip-hop star served almost nine years of a 10-year sentence for opening fire at a 1999 party, where Diddy and his then-girlfriend Jennifer Lopez were among the guests.
 
The couple fled after the shooting and, as a result, became entangled in the legal battle which eventually landed Shyne behind bars.
 
He legally changed his name from Jamal Michael Barrow to Moses Michael Levi while he was in prison and now he's living in Jerusalem, where he strictly observes the Jewish faith, according to The New York Times.
 
Shyne was released last year.