Did Victoria's Secret Model Barbara Palvin Cause Selena Gomez & Justin Bieber's Breakup?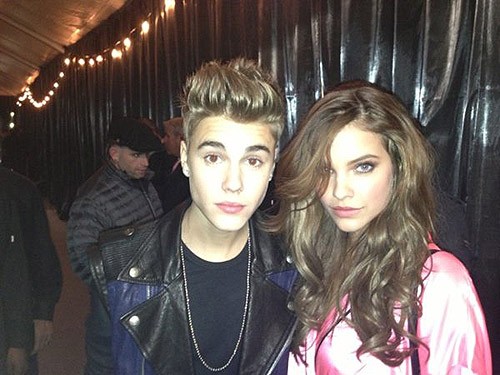 Friday night E! News reported that Justin Bieber and Selena Gomez have decided to go their separate ways, but did this week's Victoria's Secret Fashion Show have something to do with the couple calling it quits?

Bieber performed with several scantily clad models during this year's lingerie extravaganza, taped in New York City Wednesday night; and a series of tweets from several of the models that mentioned Biebs may have been the last straw for Selena.

E! reports that the couple split last week, but there's been no official announcement from the couple other than Selena posting "That's a wrap" on her Facebook page. The post included a picture of herself with her Wizards of Waverly Place castmates after they finished filming an upcoming Wizards movie -- but could her quote possibly have a double-meaning?

"Because of their crazy schedules, it was getting harder and harder to maintain a relationship," an anonymous source tells E!.

Rumors that the young couple had split after two years of dating began gathering steam late last week, when Bieber was spotted at a Broadway showing of The Lion King with a group that included 19-year-old Hungarian native Barbara Palvin.

But Palvin has downplayed the rumors, saying they all started because she took a picture with the singer (above).

"[L]ast time im saying it. please calm down.there is nothing going on w him.i met him and did a pic w him. wouldnt u do the same?:) #friendship," she tweeted on Saturday.

But Barbara isn't the only Victoria's Secret model who's got Bieber-fever lately -- models Lily Aldridge, Erin Heatherton and Lindsay Ellingson all caught the singer's show at the Izod Center in East Rutherford, New Jersey Friday night.

Ellingson tweeted during the show, "IZOD center with @justinbieber @ErinHeatherton and @LilyAldridge rocking out to [new single with Nicki Minaj] Beauty and a Beat!!"

In addition to Palvin, Biebs also reportedly has a thing for model Cara Delevingne.

But as far as Jelena, a source tells People magazine that things have gotten complicated due to their schedules and spending so much time away from each other.

"With them being apart so much it got complicated. She had some trust issues. It's not easy, but the relationship needed to end," the source says.