Did Robert Plant Secretly Marry Girlfriend Patty Griffin?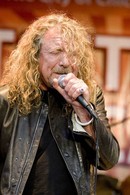 Veteran rocker Robert Plant has fueled reports suggesting he has secretly married his girlfriend Patty Griffin by wearing a new ring on his wedding finger.

The Led Zeppelin singer's publicists insist they know nothing of any nuptials, but stories about a top secret ceremony have started circulating online.

Plant , 62, has allegedly been dating the Grammy Award-winning singer/songwriter, 47, for several months, and the latest reports suggest the pair recently wed in Texas.

They have both been photographed wearing wedding rings, according to UltimateClassicRock.com and fansite RambleOnRadio.com.

Plant was previously married to Maureen Wilson, the mother of three of his children. The couple divorced in 1983.

Griffin is also a member of Plant's group Band of Joy.