Did Reese Witherspoon Call Out Blake Lively Over Her Nude Photo Scandal? (Video)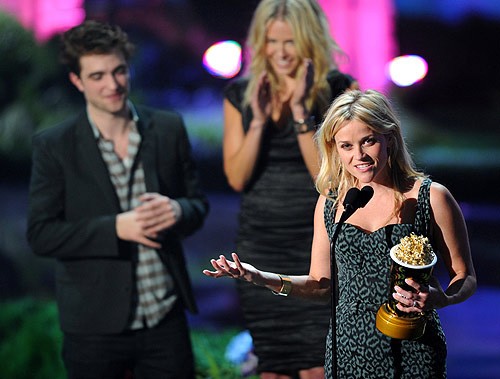 During MTV's Movie Awards Sunday night, Reese Witherspoon took the opportunity to call out young Hollywood stars who make sex tapes or (allegedly) take provocative nude photos of themselves in the mirror with their cell phones.

The Water for Elephants star was presented with the MTV Generation Award - given every year to an iconic actor in recognition of a remarkable career - and she used the time alotted for her acceptance speech to send a little 'WTF are you doing?' message to up-and-coming actresses.

In her speech, Reese said, "I just wanna say to all the girls out there, it's cool to be bad, I get it ... but it's also possible to make it in Hollywood without a reality show.

"When I came up in this business, if you made a sex tape, you were embarrassed and you hid it under your bed and if you took naked pictures of yourself on your cellphone, you hid your face. Hide your face!"
We're not sure if Reese is saying she's got a sex tape hidden under her bed or naked pictures of herself sans her head on her cell phone; but she did seem to be specifically alluding to certain stars - including one very recent one who found herself at the center of a nude photo scandal - Gossip Girl star Blake Lively.
Last week, Blake threatened legal action over a handful of photos that were released, claiming the woman in the images was not her, after which a hacker released several more, claiming that it most definitely is Blake in the images. But she still denies the claims, although speculation has begun (not just from Reese) that the Green Lantern star is not only the woman in said images, but leaked them herself.

But without naming names, Reese also seemed to be pointing a finger at the likes of Kim Kardashian and Paris Hilton, socialites who both skyrocketed to instant fame after their sex tapes leaked; and young Hollywood starlets like Blake Lively and Vanessa Hudgens - who took nude photos of herself which were intended for then boyfriend Zac Efron.
And it's not only the girls doing it - earlier Monday U.S. representative Anthony Weiner (D. New York) came clean over provocative pictures he posted to Twitter after vehemently denying that he was behind the leak.