Did 'Person Of Interest' Kill Carter?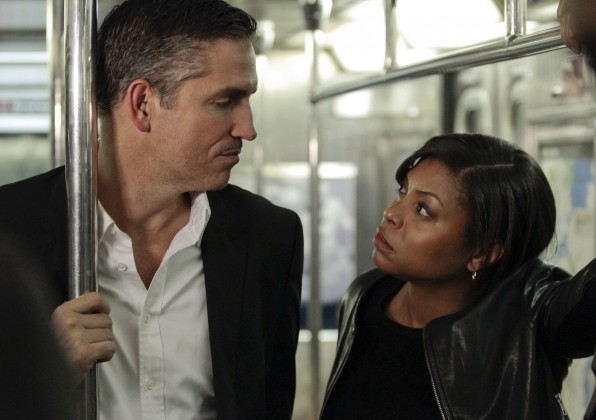 What the Hell did I just watch? Did 'Person of Interest' KILL Carter, the very soul of its show? I knew something might happen this week. Between the foreshadowing commercials, the darker feel for this week's episode, logic of who might leave, and the consummation of the hopes of Careese fans everywhere, I knew someone might die and that someone might be Carter. This week, in episode nine, "The Crossing," Carter and John capture the head of HR. They're pigeon-holed in a basement morgue by HR dirty cops while on the other side of town, Fusco is captured by HR grunts, tortured and threatened with his son's death.
Because of the advanced commercial warning of a hero's sacrifice and the materials I received earlier today, I sat on the edge of my seat, never trusting that 'Person of Interest' might provide us with a happy ending. Despite the multiple false endings, I knew until the final credits rolled either Fusco might die, Carter might die, Root might die, Finch might die or John might die. Although I loved Fusco's adorable teddy bear, I could do without him. While I've crossed my fingers hoping they'd kill off Sarah Shahi's character, I knew that wouldn't happen. The production staff supported her character admirably. Unlike the other characters, she appeared far beyond danger and outside the self-sacrificing desires of the other characters.
Once Fusco rescued himself and Shaw rescued his kid I knew he was safe. But, I still worried about John, Joss and Finch. So, I started guessing who might die out of the remaining three, while hoping against hope 'POI' would give me the happy ending it never did. The show couldn't continue without Finch or John. But, honestly, it couldn't continue without Carter upon who it hinged its entire morality. However, when Root consistently hinted at John's possible passing I became fearful.
Even without the foreshadowing, this episode felt different than past 'POI' episodes. Yea, they're always dark and violent, but this felt even darker, not just due to the power cut and nighttime setting, but the violence seemed greater. Rather than watching a bloodless knee capping, we see actual blood seeping through a denim pants leg while Fusco's bloody face appeared demon-like when killing his captor.
On top of that, Joss and John openly declared their feelings for each other. The last time this happened, they were arrested and then a car slammed into them. The minute John kissed Joss (that's right John KISSED Joss!!!!) I knew something was up. Like HR never breaks its promises, 'Person of Interest' never breaks its hints. Like a horror film, the minute the pretty kids in love declare their mutual feelings, you know they aren't long for that world. Also, Nolan made a point of always showing Joss in business mode i.e. ponytailed hair. But, in the final five minutes when she appeared with loose hair and gentle makeup, I became suspicious, especially with the framing back to their initial meeting.
Things I liked about this episode, despite the clear evidence it killed off my favorite character, Root finally hinted at the men Finch had before Reese. In the pilot, Finch had several bodyguards who helped with his works, but the minute Reese came on board, they disappeared. I wondered why the episodes never alluded to them again. So, I high-fived the writers for the reference.
Of course, I LOVED the CaReese kiss. Let's be honest, Joss and John are made for each other. They're the type of soldiers that can declare love for each other, but then flip back to business when in tight corners. I swooned at their scar comparison, their against-the-door kiss, and their through the door promises. What I equally loved, is that rather than tear up like a romantic heroine, Joss accepts his affection but didn't read into it and didn't wail when he sacrificed himself AGAIN.
Despite Shaw's addition, I loved this season, because we finally saw Carter return to herself. Last season she went off the rails; seduced and drugged a man to save John; lied to join the FBI and was a dick to Cal, until his death.
Am I angry that 'POI' probably killed off my most favorite character ever? Yes. This year, because Joss didn't do as much I increasingly feared Henson might leave. Plus, whenever a show features an African-American lead, as an African-American women I continuously fear that character's death. Would I watch 'Person of Interest' without Taraji P. Henson? No. I stopped watching 'NCIS' the minute Ziva left. I might love Amy Acker, the showrunners and its theme, but Taraji P. Henson, her warmth and her character's light made the show for me. I couldn't watch it without her. 
There are things I hoped to see this season - Carter enter in a relationship with the 'Lady Killer,' Joss enter into the inner sanctum and the return of the core four. While I hope they don't kill her off, if they do, why is it that most shows/comics kill off the minority character for 'artistic reasons.' Brian Vaughan did it in 'Y: The Last Man Standing' and Nolan/Plageman repeat it here. What are your thoughts on the subject?
For on-camera interviews with Jonathan Nolan, Greg Plageman and the cast regarding this week's episode, see here or below.