Did Madonna Supply Her Underage Children With Booze?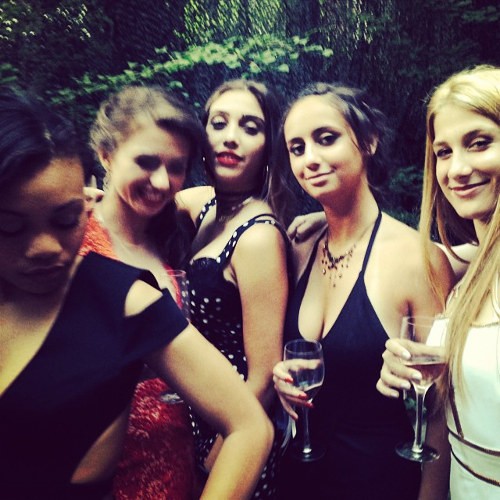 Madonna, ever the provocateur, might be getting some unwanted attention after she uploaded a photo to Instagram showing her 17-year-old daughter Lourdes enjoying a drink.
On Saturday the pop idol happily shared photos from a pre-prom party she held for her daughter and her friends. In one photo, the teenage girls (that's Lourdes in the polka-dots) cradle delicate glassware with an unknown drink within – not exactly the proper vessel for soda, anyway.
After a few photos of some of the boys posing in their suits, Madonna uploaded a photo of her sneakers to either side of the same type of glass holding an amber liquid. "Mama takes a rest! #graduatebitch," she wrote.
You'd think Madonna would learn from the last time she got burned for suggesting she was opening the liquor cabinet for her kids. This past January she uploaded a photo of her 13-year-old son Rocco and his friends posing with bottles of alcohol for New Year's. After users bashed the singer for encouraging underage drinking, she replied, "No one was drinking we were just having fun! Calm down and get a sense of humor! Don't start the year off with judgment!"
While it's impossible to know for sure what the kids were drinking, it's hard to believe Madonna would serve water in wine glasses for a kick-butt party living up to her name. We'll give her the benefit of the doubt – but it looks bad.
Lourdes recently graduated from LaGuardia High School of Music & Art and Performing Arts in New York City. In a blog post to Madonna's Material Girl fashion website, she shared her thoughts on graduated high school and revealed she will be going to college, but didn't name which one.