Did Kris Allen Win 'American Idol' Because Of His Looks?

Who says looks don't get you far? Certainly no one who watched last night as Kris Allen took the coveted title of
American Idol
Season 8 winner. After the announcement, he seemed as shocked as we all were and was left with very little to say.
How is it that Kris Allen was able to take home the grand prize when Lambert is clearly the stronger, more artistic and original singer? Well, Allen is simply more likable. Perhaps because of his looks or perhaps because he is the boy next door. As Lambert was by far the most original, "out of the box" contestant the show has ever seen, Allen was one of the most humble, docile and quite frankly, best looking ones.
With a slew of celebrity surprises and even an impromptu performance from Idol's own
Kara Dioguardi
, this season's finale surpassed all others. Although the show opened with the rather awkward 13 finalist's performing
Pink
's "Rock Star," it eventually turned around as Kris took to the stage with
Keith Urban
and competently sang "Kiss a Girl." Queen Latifah following performance was a rather messy number with finalist Lil' Rounds that really was neither bad nor good - it just was.
The show improved even more when
Fergie
took to the stage with a shortened version of "Big Girls Don't Cry," which eventually led into one of the best performances of the evening with her old band
The Black Eyed Peas
. As visually stunning as it was entertaining, the Peas seemed right at home with their front girl back in action.
The most comical, poignant and heartfelt performance of the evening by far would have to be when Idol judge Kara DioGuardi did what no judge before her has ever attempted when she spoofed herself singing
Mariah Carey
's "Vision of Love," with the now infamous "Bikini Girl (Katrina Darrell)," proving that not only could she talk the talk but she could walk the walk as well. DioGuardi ended the song by opening up her dress and proving that not only could she sing the song better than Darrell, she also managed to look better in a bikini.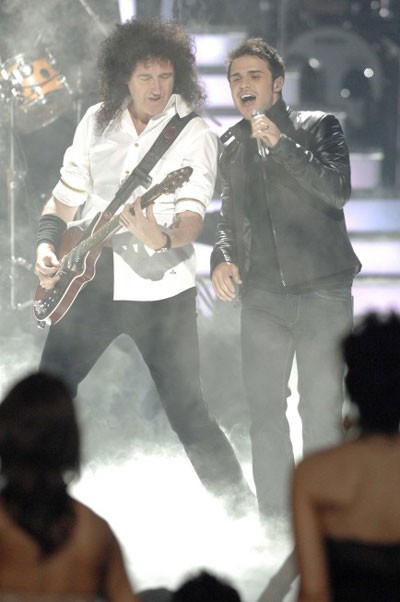 Image © Ray Mickshaw/FOX
Cyndi Lauper
returned to her "Time After Time" ballad with finalist Allison Iraheta, playing the mandolin and showing us she still has what it takes to take the song home. Next was Danny Gokey, who very well should have been in the final two, in an even yet awkward duet with
Lionel Richie
. A competent, although unexciting performance.
Rod Stewart
performed "Maggie Mae,"
Steve Martin
played the banjo,
Carlos Santana
sang with other Idols, and Adam Lambert sang with Kiss. The next memorable performance, however, was when Kris and Adam took the stage with the remaining members of
Queen
singing "We are the Champions." There was never a better example of how superior Adam's voice was to Allen's. Although no
Freddie Mercury
, Lambert competently took home the high notes while Allen sang the lower key introductory notes.
Lambert will no doubt find huge success on Broadway, which is quite evidently his calling. What the future holds for Kris remains to be seen. As the show is over and the audience dissipated, Kris will have to work very hard to break out of the Idol mold into an independent, original musical artist. We wish them both the best of luck.
Story by
Lawrence Gould
Starpulse contributing writer