Did Justin Bieber And Rihanna Have An Affair Behind Selena Gomez's Back?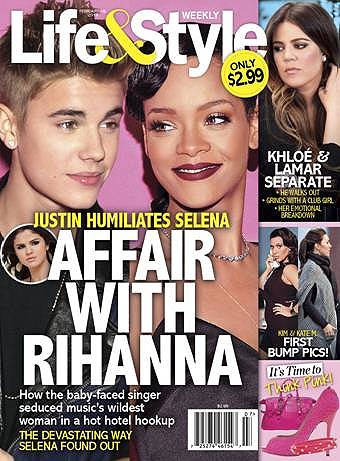 If a new report from Life & Style Weekly magazine has any truth to it, Justin Bieber and Rihanna might have more in common than their love of tattoos.
Life & Style reports that the real reason Selena Gomez broke up with the pop star is because she recently found out that her boyfriend and Rihanna have been doing the horizontal bop behind her back.

A friend of Justin and Selena's tells Life & Style the news has "devastated" Selena.

"It really cut like a knife because it happened in February of 2011, when Selena and Justin had been dating for months and were falling in love," the pal says. "It's caused Selena to question their entire relationship."

"Selena thinks maybe they've been hooking up all along," the friend adds.

Justin and Rihanna were spotted sitting next to each other and flirting at a Los Angeles Lakers basketball game back in February 2011, which is when they began hooking up, according to the anonymous source.

But Bieber's infatuation with the Bajan singer goes back further than that. During an appearance on Chelsea Handler's talk show Chelsea Lately in 2009, Bieber -- then just 15 -- told the host that he had a crush on Rihanna.

"Yea, I asked her out. It didn't go so well since I'm not with her," he said. "I asked her out and she was basically like, 'You're too young.'"