Did Demi Moore Get Busy In The Back Seat With Ashton Kutcher's Friend?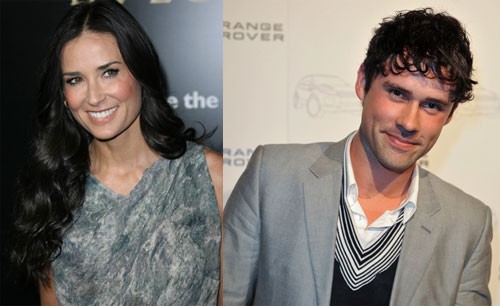 Maybe the reason Demi Moore hasn't left Ashton Kutcher is because he wasn't the only one caught cheating. Ashton made headlines recently for reportedly having a tryst in his hotel room during his sixth wedding anniversary.

In Touch magazine alleges that Demi, 48, isn't so innocent herself.  The magazine claims she hooked up with Ashton's friend and actor Ben Hollingsworth, 27. According to the mag, "One fateful night, Demi picked Ben up after he'd been partying — and unleashed her inner cougar. 'They wound up having sex in the back of the car,' the insider says."

Demi reportedly helped Ben with his career by introducing him to higher ups in Hollywood. The actor starred in failed CW series "The Beautiful Life" and the 2009 film "The Joneses" opposite Demi.

Reps for both Ben and Demi have denied the affair rumors.
One thing's for sure, the stress seems to be adversely affecting the actress, who looks like she's lost a lot of weight. Last week a paparazzo says Demi shouted obscenities at him and lunged at his camera. The photographer told X17online.com, "Demi was crazy; she was totally losing it. I was just standing on the sidewalk, trying to get a few shots of her and she was going completely mad. She tried to jump on me and swipe my camera."