Did David Letterman Give Away The Ending Of 'The Dark Knight Rises'?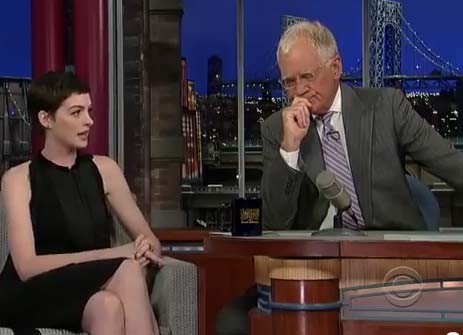 Anne Hathaway was the main guest on Thursday night's episode of the Late Show With David Letterman; appearing in support of her latest film, The Dark Knight Rises.

During her interview, host David Letterman revealed that he's already seen the movie - and his comments on the final installment in director Christopher Nolan's trilogy may have spoiled the ending!

Letterman told Hathaway that he was "amazed at how quickly" the two-and-a-half hour film goes by.

"What a deal this thing is," he says. "I'll tell you in all honesty. I went to the movie, and it's two hours and forty-five minutes. So two hours and forty-five minutes - that says bring survival gear, and I went in there, and the thing flies by. I was amazed at how quickly it goes by, and that's the sign of a great movie."

"You were fantastic," he said to Hathaway. "The cat-suit was fantastic, and I loved it. I loved it!"

**SPOILER WARNING** - But it's what he said after that's the shocker.

"This is gonna be enormous... this is a huge movie, and what I liked about it, people said, 'well I haven't seen the first three or four…' I said, 'It's not necessary. It's not essential to see all previous installations of Batman,' and I think this is it - and in the end Batman is dead."

Hathaway paused and then said, "Dave..."; to which the host replied laughing, "He's not dead. He ain't dead, just relax, will you."

We think (and hope) Letterman was just joking.

The Dark Knight Rises is rumored to be based in part on the Batman comic titled "Knightfall." You can look it up at Wikipedia," but be warned, it could contain major spoilers for the film.

Watch Anne Hathaway's interview on Letterman below. The "spoilers" start at around the nine minute mark...