'Dictator' Sacha Baron Cohen Makes A Grand Entrance On A Camel In Cannes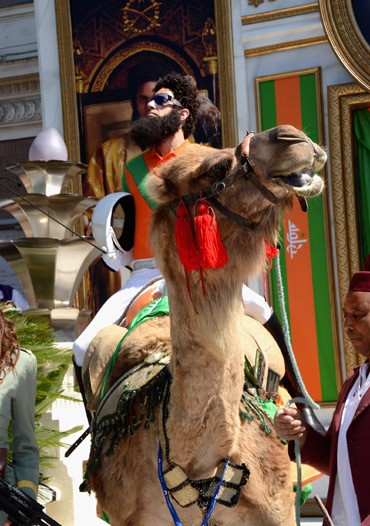 Sacha Baron Cohen enjoys stunts and completely embodying the characters he plays - on the big screen and off. Yesterday he arrived as "The Dictator" at the Carlton Hotel during the 65th Annual Cannes Film Festival riding a camel. He was surrounded by a posse of armed women.
The satirical film centers on an oppressive, democracy-hating dictator and a goatherder (both played by Cohen) whose misadventures in America lead to a series of outrageous culture clashes. Anna Faris co-stars.
The movie's stars have been making headlines for months. Last week a newly pregnant Faris inadvertently flashed her underwear to photographers at the film's London premiere.
On the Oscar's red carpet in February Cohen, dressed as "The Dictator," spilled an urn containing what he claimed were the remains of late North Korean leader Kim Jong-il all over Ryan Seacrest's tuxedo.
The movie hits theaters this weekend. Check out more photos from Cannes...