Diamond Multimedia Announces TAB360 for Tablet Gamers Looking to Race or Fly on the Go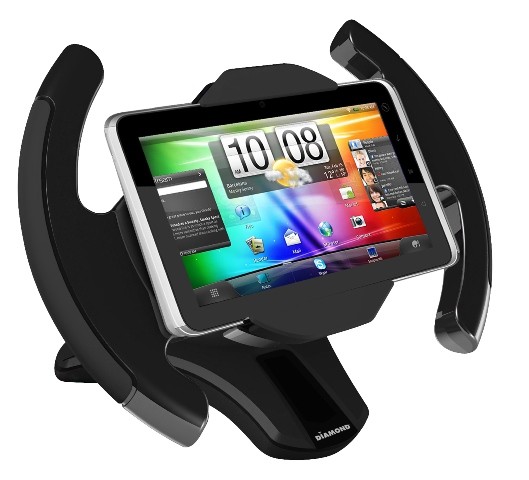 Yesterday, Diamond Multimedia announced the TAB360, a 360-degree rotating universal multimedia stand for iPad, iPad mini, Android and Windows 8 tablets. There's three versions: a black one (TAB360B), a white one (TAB360W) and a black version with Bluetooth operated speakers (TAB360BT).
The stand is aimed at those looking to play racing or flying games on their tablets such as Real Racing 2 HD, Reckless Racing 2 and Sky Gamblers.
The TAB360 consists of a set of double-sided clamps that allow you to adjust for tablets between 7" and 10.1". Users can place their hands on the "wheel" to tilt their tablet.
Companies are increasingly making peripherals for the tablet market that make gaming much easier, more intuitive and just plain fun. (Without them, most games on tablets that try to mimic the console experience don't succeed.)
I've recently tested a game controller and a pinball simulator—reviews posting soon. This, however, is the first one I've seen that attempts to actually turn your iPad into… well, a wheel.
All three versions of the TAB360 will be available online and in store (Amazon.com, Newegg.com, etc.) this Thanksgiving. The standard versions will retail for $59.99 while the one with the Bluetooth speakers will retail for $79.99.
To learn more, please visit http://www.diamondmm.com/.