DGA Nominations: Are Coen Bros. Doomed At Oscars?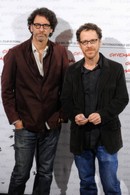 The Directors Guild of America announced is nominees for Best Director yesterday, and there was only one major surprise: the omission of Joel and Ethan Coen for 'True Grit.'  They were edged out by these nominees:
David Fincher for 'The Social Network'
Tom Hooper for 'The King's Speech'
David O. Russell for 'The Fighter'
Christopher Nolan for 'Inception'
Darren Aronofsky for 'Black Swan'
The Coens still have a shot at being nominated at the Oscars, but it means edging out one of these nominees, probably Russell or Nolan.  All five of the movies nominated at the DGA stand an extremely high chance of being nominated for Best Picture at the Oscars.  I'd be shocked if any were left off the list, particularly with the category expanded to 10 nominees.