Dexy's Midnight Runners Return With First New Album In 25 Years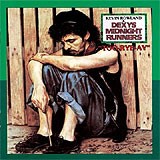 "Come On Eileen" hitmakers Dexy's Midnight Runners are back in the studio, working on their first album in over 25 years.

In a tweet to fans, frontman Kevin Rowland and his bandmates have confirmed reports they're recording new material - as Dexys - for a follow-up to 1985's "Don't Stand Me Down."

Rowland has also posted photos of bandmates in the studio.

The accompanying tweet reads, "Dexys new album. Can't really say why, because it's hard to put down to any one thing, but it's working - it's early days, but so far so good."

The new line-up features Rowland, bassist Pete Williams, guitarist Neil Hubbard and former Style Council keyboard player Mick Talbot.

Dexy's Midnight Runners enjoyed a string of U.K. chart hits in the early 1980s, and 1982's "Come On Eileen" was an international smash. The band split in 1985 and leader Rowland went solo. He reformed the group in 2003 and toured on the back of a greatest hits compilation.