'Dexter' Recap: 'Once Upon A Time' (6.02)
He might be a serial killer, but this week's Dexter left me wanting to hug Dexter Morgan - after all, he's just realized that he may be his son's worst enemy.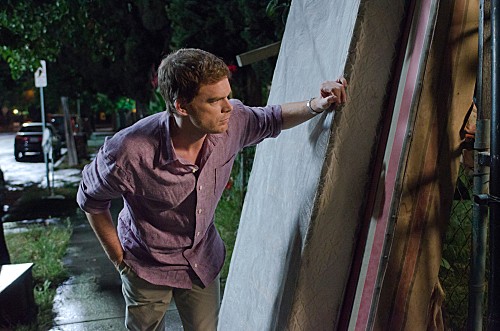 Harrison's getting older now, and Dexter is disturbed to find out that his son has picked up on some of his father's habits, making repeated references to "daddy's box" of blood slides.  Having previously stated that he doesn't want to pass his Dark Passenger on to the tot, Dex makes a painful decision at episode's end: that he can no longer show his son his real nature, only the one that everyone else believes to be true.
It seems obvious, but it's sad to watch all the same, particularly because Michael C. Hall shows us Dex's quiet despair at it so beautifully. Dexter will never be able to truly connect with his son, and once again, he's left without anyone that he doesn't have to hide with. At the same time, it's clearly what's best for Harrison, so one could call it a noble sacrifice. Dexter might doubt himself as a father, but he's not nearly as horrible of one as he believes.
After the restaurant shooting, Deb is the department's newest hero. Captain Matthews decides to promote her straight from Detective to Lieutenant, putting her in charge of the homicide team - and stabbing Batista in the back. As if that wasn't enough of a shakeup for her, she's thrown even further when Quinn proposes to her. All that Deb can see is her perfectly ordered world suddenly being completely changed, and she's not sure that she's ready for any of it. While she has no real choice when it comes to the promotion, she tells Quinn that she can't marry him, and their relationship ends abruptly.
This particular development breaks my heart, as I love Quinn, love Deb and love the two of them together. The relationship allowed them both to grow as characters; the Quinn we met seasons ago wouldn't have lasted this long in one, let alone been ready to propose marriage. I can certainly understand his frustration and anger. At the same time, I think Deb has a very valid point, even if she doesn't necessarily articulate it to anyone the best way. She's having to deal with two life-altering decisions, the other one of which has huge repercussions for not just her, but people she considers family. I'd be uncomfortable, too. It's clear from her discussion with Dexter after the proposal that she doesn't (and maybe never did) have a clue as to what she wants - she needs to do some soul-searching, and she's going to have to do it under pressure. Here's hoping she figures herself out and maybe these two have a chance at reconciling later down the line.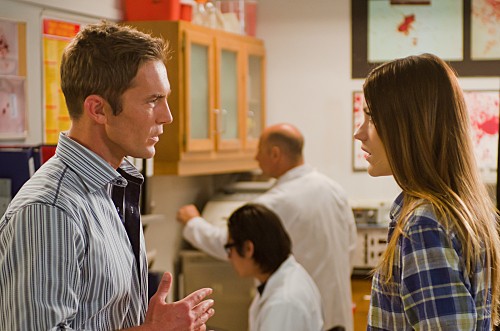 They certainly can't fare any worse than Batista and LaGuerta, whose marriage is now toast. I can't say that surprises me; a lot of the reaction to that subplot - at least that I heard - was quite negative, so it seems as if the writers might be fixing what in hindsight appears to be a misstep. LaGuerta's dealing with power problems in the upper echelon is not new, but one does have to feel for Batista. He loses his wife and a sorely wanted promotion in short order. It's the epitome of kicking someone when they're down.
Meanwhile, the continuing investigation into Omar Rivera's death leads our Metro Homicide team to cross paths with Brother Sam (Mos Def), a former con turned minister that none of them particularly care for. They're not convinced his change of heart is genuine. Particularly not Dexter, who once had Sam in his sights until Sam was busted for drugs. His suspicions seem to be confirmed when he witnesses Sam going to a house and leaving with a body in his trunk. But as is usual on Dexter, things aren't always what they appear to be. The body is very much alive, and Dex ends up helping Sam out when a few gangbangers come calling.
Furthermore, he satisfies his Dark Passenger by knocking off one of them later on. After six seasons, you think we'd be desensitized to the violence on Dexter, but every single kill room still manages to unsettle me - which I mean as a complement to the longevity of the show. This one in particular had me looking away. Dexter is still as disturbing as ever at a time when many shows would be flagging, or even ending.
Lastly, Travis visits his sister (Polly Walker of Deadwood and Human Target), and isn't thrilled when Professor Gellar tells him that she can't be saved. It's made obvious that there's a lot of inner conflict going on with Travis, and it's going to be interesting to see how that plays out over the course of the season. Will he break? I'll just be happy when I can look at Colin Hanks and Edward James Olmos and not have flashbacks to The Good Guys and Battlestar Galactica. It's going to take a bit to get used to them in these new, much more soft-spoken roles.
Now that we're through the season premiere, "Once Upon A Time" is where the plot strands for this season of Dexter really start to emerge, and you can see where they may be headed. There are lots of interesting questions here, from how the dynamic in the homicide team may change with Deb in charge, to Dexter's efforts to shield Harrison from Dex's own nature. More than the season to season plots, I'm always interested in what Dexter provokes when it comes to ideas of humanity and human behavior, and season six seems like it's going to prompt some fascinating discussion.
(c)2011 Brittany Frederick/Digital Airwaves. All rights reserved. No reproduction permitted.