'Dexter' Recap: 'Just Let Go' (6.06)
This week's Dexter sees our hero make an important decision about his direction in life...while those around him continue to have no idea where they're headed.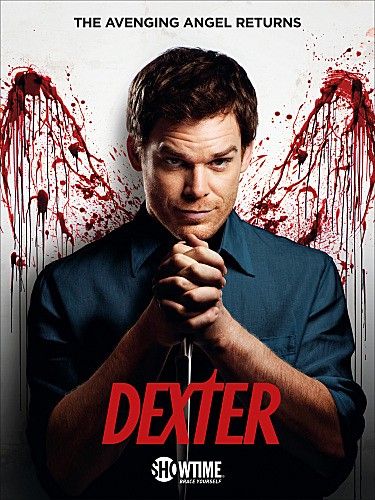 Dex gets the news from Deb that Brother Sam has been shot, which forces him to abandon his stalking of Travis and makes him seriously angry. He quickly zeroes in on Leo Hernandez, a gang member who replaced the man Dex killed. He doesn't get a chance to exact justice, though, as Leo is shot and killed in a standoff with the cops.
All should be well, but Dexter finds himself not so convinced of Leo's guilt after all. The real shooter is the man Dex saw Sam baptize, Nick. Yet Dexter is surprised when Sam asks him to forgive Nick, rather than pursue him. "I know about your darkness," Sam tells Dex on his deathbed, "but I also see your light."
So Dexter decides to convince Nick to turn himself in. However, Nick is more interested in relishing that he's gotten away with murder, and our hero snaps and drowns him in the same lake where Nick was baptized. "There's no light in you," he says via voice-over. "There's no light in me."
And then he's confronted by his very much dead brother Brian Moser.
With the death of Sam (which is a shame as Mos Def acted the heck out of that role) and the appearance of Brian, not to mention Dexter's own words, it's clear that he's accepted his Dark Passenger and doesn't see any other way for himself. This is in spite of his increasing awareness of the blowback - he lost Rita to Trinity and he's expressed concern this season over how his true nature might affect Harrison. Dexter wants to protect those he loves from himself, but at the same time knows he cannot change - that just screams future self-destruction somewhere down the line. Perhaps a possible end to the series? Who knows.
Meanwhile, Debra's new rank continues to fray her relationships, as Masuka and Batista aren't eager to socialize with her when she approaches them. (Yet LaGuerta is always just around the corner to nag.) Deb cracks and admits to the department shrink that she feels lost and regrets the end of her relationship with Quinn. Yet when Quinn later asks her if she ever loved him, she can't (or won't) answer. I appreciate that Deb's going through a lot of turmoil with her job, but I hope that's not the only note her character hits this season. We're at the halfway point now and that's been the bulk of her arc.
Speaking of Quinn, his libido gets him in trouble when he realizes that his conquest from the previous episode is now his key witness - and Deb wants her brought into the station for questioning. During the interview, their tryst comes out and Deb is none too happy to hear it. Quinn being the not-really-repentant jerk that he is, he uses the resulting confrontation to accuse her of being jealous yet again. Then he turns up drunk at Deb's housewarming party, where Batista punches him for hitting on Jamie. Every week that goes by, Quinn gets more and more insufferable. I find myself hoping he hits rock bottom fast, so he can start climbing back up before my second-favorite character becomes my least favorite.
"Just Let Go" is an important episode for the character of Dexter, because it clarifies the worldview that he found upended when he met Sam. The rest of the characters still seem to be searching, however, and I hope that as we head into the back half of the season, that they experience the same kind of growth that Dexter has this season. That would be the icing on the cake for a sixth season that's been good but could be great.
(c)2011 Brittany Frederick/Digital Airwaves. All rights reserved. No reproduction permitted.