'Dexter' Producers Talk Season Five Guest Stars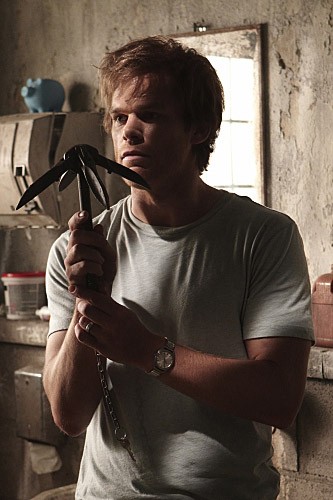 Everyone's waiting for the return of Dexter after the shocking finale of last season. Dexter himself will have plenty to deal with, but now he'll be joined by some new characters. Four guest stars this year include Peter Weller, Jonny Lee Miller, Shawn Hatosy and Julia Stiles.
"We have four bits of very strong casting that are characters that come in and interact with Dexter's journey this year," producer Sara Colleton said. "It's going to be a very interesting experience to see Dexter bounce tennis balls from them." 
Last year's big guest star, John Lithgow, was a powerhouse. This quartet has tough shoes to fill. "I'd like to think that our characters are so strong that they will always prevail over anyone's name," Colleton continued. "We hire actors.  They may happen to have a name, but we would never hire anybody because they have a name. It's about their quality as an actor, because they have a really high bar with our team."
Part of the way to distinguish the new guests though is to have more of them, so it's not all on one person. "One of the things we wanted to do this year was shake up that single big bad, especially in the wake of John Lithgow," said Chip Johannesen. "It did seem like the thing to do was try to top the baroque serial killer thing."
Another guest star who may not be getting as much press is Kate Moennig. That makes five. She plays a tattoo artist friend of Masuka (C.S. Lee)'s. "There's a tattoo that is a part of the big crime that Miami metro is solving this year," Colleton said. "Deb has found a clue so they need to go to a tattoo artist to get more information."
Dexter returns September 26 on Showtime.