'Dexter' Plans For Its Fifth Season At PaleyFest

It should seem absurd that anyone would honor and celebrate a serial killer. But when he is a loving husband, father of three, and law enforcement official, it is hard not to see his good side. And the Paley Center for Media has done that not once but twice within four years now with their annual PaleyFest in Los Angeles and Showtime's hit crime drama Dexter.
The crowd and the panel gave Michael C. Hall a standing ovation when he walked out on stage on Thursday, March 4th after screening the very special Thanksgiving episode of the previous season, "Hungry Man." Though the actor skipped press, presumably to save his energy for the hour alongside his co-stars, he did confirm that he has only one more treatment for the cancer, and he is feeling good.
Though the show has not even begun shooting its fifth season yet, the question on everyone's mind was whether or not Dexter and gang would jump forward in time, aging the kids and perhaps seeing if any of them have tendencies like their father. The verdict was a big fat no on that, as Rita (Julie Benz) was so important to Dexter that it is equally important to see how he deals with the ramifications and emotional turmoil from her death. For a character who places himself on the outskirts of humanity and has struggled in believing he can even really "feel," it appears there will be much character work coming down the pike for Hall!
"His capacity for stress management rivals his capacity for straight-up killing," Hall stated simply.
So just what will be in store for the next season then? C.S. Lee who plays plucky comic relief fan favorite Masuka joked that "The whole series is in [his character's] head!" Though the idea was tossed out to the panel that perhaps Masuka could catch onto what Dexter is really up to and become his sidekick in killings, Lee shook his head: not gonna happen.
Dexter's sister Deb (Hall's real life wife Jennifer Carpenter) also will continue to remain in the dark about her brother. After all, the love she has for him is something the producers feel helped the audience warm to him very early on. Sure he dumps bodies in the ocean, but how bad a guy could he be if he elicits such a deep bond from another person? "It's important for the series that no one know Dexter's true identity except for Dexter himself," Sarah Colleton stressed. "Otherwise things come into play with how everyone reacts to who he is, and that's really a different story."
However, Hall was quick to point out that now that Deb does have a few more pieces about his history, in that the Ice Truck Killer was really his brother, "It's going to take a whole new level of denial" to be in as much admiration of her brother has she has always seemed.
And just how does Carpenter delve into such emotion for her seemingly endlessly "anguished" character? She admits that "the facial expressions are all accidental. I didn't notice them at first, but now I have to look in a mirror to practice!" But the writing is so rich that a lot of the upset just comes naturally when in a scene, especially one like Lundy dying in front of Deb's eyes. "I think I, like, lost feeling in my left arm and was having trouble breathing," Carpenter explained when talking about how intense those moments were for her. But there is also just a natural waver in her voice that lends itself well to such dramas and made itself apparent even at this upbeat, light-hearted panel.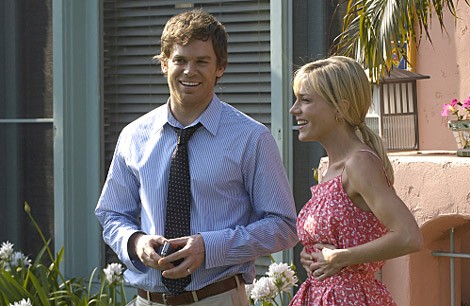 Benz has had similar reactions to certain moments within the show. "The scene where Dexter proposed to Rita just had me balling and snot and heaving, and the director said to me at one point 'Can you save some of it for when we roll?' And I just said 'Oh don't worry, it will still be there!'" Benz also admitted that her first thought when reading the script that featured her demise was "But what about the baby!?!" Inevitably this provided an extra emotional layer, but Benz quickly remembered that "It's just TV, and he'll be fine and go through therapy and probably forget he even used to have a mother!"
Moderator Kristin Dos Santos did also ask the producers to address the fact that Trinity killing Rita didn't fit his usual pattern. Colleton's justification for this was simple but also somewhat inadequate: "It was about going back to the beginning for the end." But in truth, the beginning of the cycle for Trinity was the kidnapping of a young boy, not the young woman in the tub...so really it appeared they just liked the shock value of seeing Benz in the tub. As she herself laughed: "You just don't bleed out as much when you jump off a building!"
There is no reason to feel bad for Benz, though; she is breathing new life into Desperate Housewives with her guest spot as an ex-stripper who moves onto Wisteria Lane and into Katherine Mayfair (Dana Delaney)'s bed. She has also just signed onto ABC's newest pilot No Ordinary Family.
Production on Dexter season five begins in June.
Story by Danielle Turchiano
Starpulse contributing writer