'Devious Maids': Mark Deklin Previews Tonight's Season Finale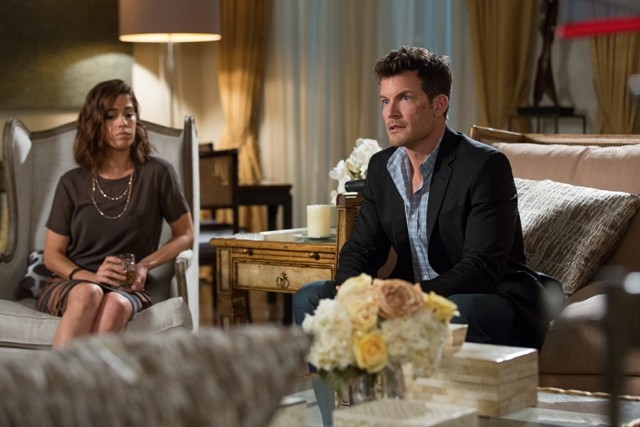 If Nicholas is redeemed by the end of tonight's finale, no one can say that he hasn't earned it. After all, earlier in the season, this was the guy who got hit by a car driven by his former maid, who was also his late wife's mistress. As scary as that was to watch, "That was one of my favorite moments," Mark said. "I always love shooting stunt sequences. I have some training in that, and so it's always fun...and when I saw the final result, I was really pleased.
What else did he enjoy over the course of the season? "My scenes with Ana, just finding all the nuances," he added. "I felt like we found this nuance of that sort of melancholy of two people who love each other, but know they might be doomed."
Speaking of doomed, when that car accident happened, was Mark ever afraid that he was about to be out of a job?
"The thought certainly crossed my mind," he laughed. "The way the script ended...I believe the words said 'The camera pulls back from Nicholas's lifeless body in the middle of the street.'" Luckily for everyone, Nicholas survived and his storyline got to go on.
We can't quite say the same for Devious Maids, which has yet to be renewed for a third season. "We don't have anything," Mark told us. "I suspect the decision won't be made until Sunday night's numbers come in.
"I think so far we've been doing fine. We've been cruising along. I think if we can either hold steady or increase our viewership for the finale, I think the show will get a renewal. They haven't told us anything."
No matter what happens with the show, Mark has enjoyed getting to play the part of Nicholas, and he also enjoys interacting with the Devious Maids fans on Twitter, where he's been live tweeting for pretty much the entire season. "It's so much fun," he enthused. "It just feels collaborative...When you're live tweeting, you have that interaction. It's that same sense of, we're all in this together.'"
But while Nicholas has proven to be pretty popular with the fans, who knows if they'll still love him after the dust settles tonight. "As we all know and everybody will know by Sunday, Nick's secret is pretty bad," Mark teased. Here's hoping he overcomes it and gets to come back for more.
The Devious Maids season finale airs tonight at 10 PM ET/PT on Lifetime. You can also keep up with Mark on Twitter (@MarkDeklin).