'Devious Maids': Mark Deklin Previews Tonight's Season Finale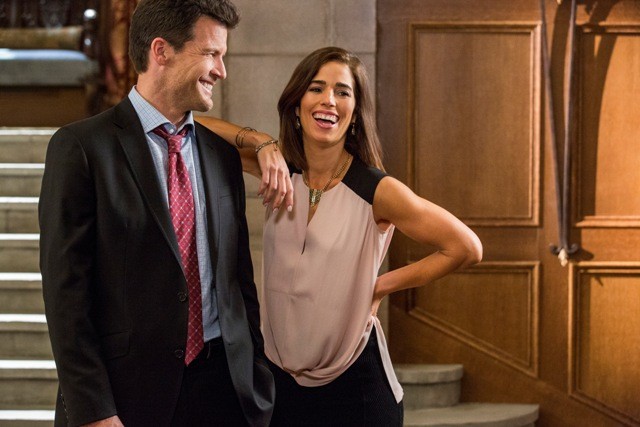 When last we spoke to Mark Deklin, he was the new guy in town on Lifetime's Devious Maids. Now the second season is almost over, and everyone's wondering if Mark's charming but flawed widower Nicholas Deering still has a shot at happily ever after with Marisol (Ana Ortiz, pictured above with Mark).
So naturally, we checked back in with Mark to discuss how Nicholas might end up after tonight's season finale, and what it's been like for him to play the character who's become one of the show's most popular.
SPOILER ALERT - This article discusses a key scene from the second season of Devious Maids. If you're not entirely caught up on season two, do not read the second page of this article.
Where Nicholas is now isn't necessarily where Mark thought he'd find his character initially. "I didn't even find out what Nick's backstory was until we were already into [filming]. We had just started shooting the second episode. And then I thought 'Okay, how can this guy survive?'" he told us.
"But then things started changing and people started liking Nick. The whole thing's been a roller coaster ride. I had no way to predict where things were going to end up."
"I think Nick wants his story to be a story of redemption," he continued. "Nick is a guy who, through accidents that were not of his doing, but also his bad choices and bad reactions to those things, he found himself in a place where he had become a bad person. And it wasn't what he had ever set out to do. And he sort of accepted that [he was] a bad person.
"But I think now Nick's soul is crying out for redemption. He wants to be a human being again. That might come with Marisol. [Or] it might come with her as the catalyst for it, but not as the vessel of it. He might have to find his own redemption."
If Nick is to win Marisol back after all the skeletons that have come out of his closet, it will decidedly not be easy. After all, their once-nearly perfect relationship is pretty on the rocks, as evidenced by the below clip from last week's episode, "Proof."