Details Of Heidi Klum & Seal's Split: What Went Wrong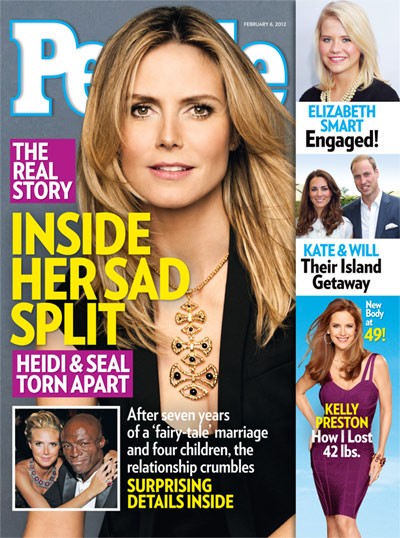 What tore Heidi Klum and Seal's "fairy-tale" marriage apart? After four children and an almost seven-year relationship filled with grand gestures (vow renewals, exotic getaways), the couple reveal that they've "grown apart." This week's issue of PEOPLE examines some surprising details about the shocking split. Heidi and Seal's Christmas vacation in Aspen should have been a magical time. However, coming off his latest European tour, an exhausted Seal "wanted to sleep, not spend time with other people and be out all day," which led to arguments between the Grammy award-winning singer, 48, and the Project Runway host, 38, a source close to the couple tells PEOPLE. In the end, "instead of being back together as a family," says another source, "it was difficult for them to get along."

Three weeks later, the pair stunned family, friends and fans by announcing that after much "soul-searching" they had decided to separate. While Klum and Seal (born Sealhenry Samuel) took great pains to help their four children – Leni, 7, Henry, 6, Johan, 5, and Lou, 2 – process the news at their L.A. home over the weekend, the rest of the world struggled to come to grips as well. "All this is just shocking," says Niche Media founder Jason Binn, a longtime friend of Klum's. "I've only seen them as the most loving couple." Says another friend: "I never thought they'd give up on their marriage. They seemed so committed."

After they wed in May 2005 on a beach in Costa Careyes, Mexico, Heidi and Seal renewed their wedding vows on every anniversary with a spectacular party ranging from a masquerade ball to a '80s-themed get-together. At their Venetian-inspired bash last May, "they were kissing and holding hands and laughing the whole time," says a friend of Klum's. "There were no signs that they were having problems."

But there were cracks in the surface of their marriage. "They were just really great at keeping it private and putting on that 'perfect couple' front that everyone expected," says another Klum pal. But "it's actually been about six months that they've been working through some issues." For one, they spend long stretches continents apart. While Seal was criss-crossing Europe last year, Klum was holding down the family fort in their $14.2 million manse in L.A., where she shuttled the kids to and from ballet classes and karate lessons. Although Seal made a concerted effort to Skype with his family and send photos from the road, "it got harder and harder for both of them to re-engage in the relationship after being apart for so long," says a source close to the couple. "It's a crazy love affair with highs and lows," the source adds, who describes their last family trip to Aspen as "the final straw. When they got back they realized there were more lows than highs. They realized while they love each other, they're not in love anymore."

As the household grew, Klum's career exploded as well: In recent years the retired Victoria's Secret model has become a businesswoman who now ranks No. 2 on the Forbes list of the world's top money-making models. While Klum also travels for work, a source close to the couple says she is adamant about making only quick trips so she can be home for her brood. "She made her life around those kids and put her work second," adds the source.

For now, as the family remains living together in L.A., their sole focus is protecting their kids. "They're devoted to making sure their kids are happy and not affected by this," says a friend of the couple's. "I do believe they love each other. I believe they were madly in love," says a source close to Seal. "But they're just two people going in two different directions."


*Also In This Week's 'PEOPLE'*
Elizabeth Smart Engaged! "Summer Wedding" Is Planned
How Kelly Preston Lost 42 Lbs: "I Have More Energy Than I've Had In 20 Years"
Prince William & Kate's Island Getaway: Mustique
Adam Levine: "I'm More Of A Rambunctious Child Onstage Than A Dancer"
Drew Barrymore's New Life: "She's Still Drew, But She Has Calmed Down"