Details About 'Bachelorette' Emily Maynard & Jef Holm's Fake Relationship Revealed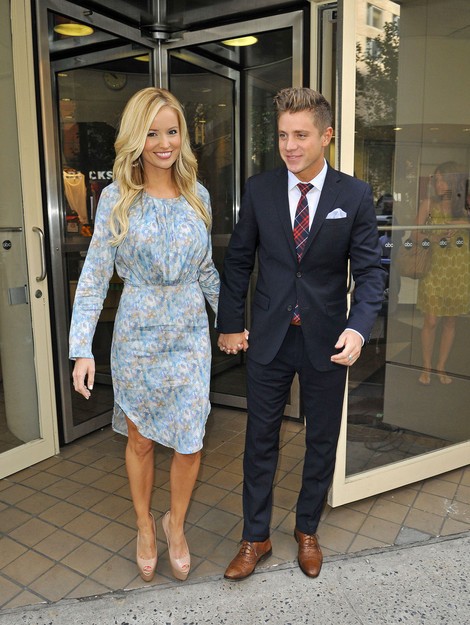 "Bachelorette" Emily Maynard's relationship with fiancé Jef Holm wasn't exactly what they portrayed it to be, according to a new report. Several sources revealed to Us Weekly that the couple recently ended their five-month engagement, but their relationship ended much earlier than that.
Back in August Emily allegedly sent explicit photos and texts to NFL pro Matt Leinart, and that's when things blew up between the couple. "She flirts with other guys to help her ego," a soure revealed. "She gets off on it. She wants to come off as this goodygoody Southern belle, but that's not really the case."
But Emily isn't the only one who had a wondering eye. Jef was spotted flirting with a blonde during a Laguna Beach, Calif., charity event on Oct. 4.  ""He touched her hip and pulled her toward him," an observer told Us Weekly. Days earlier, he "hooked up with a girl in a bathroom" in San Diego.
In addition to trust issues, Jef apparently criticized Emily's parenting skills. One insider reveals, "He would taunt her and call her a bad mom."
Jef's ex-girlfriend, Kaylee Shepherd, claims he decided to keep the charade going in exchange for half of Emily's "Bachelorette" salary. "They wanted their 15 minutes of fame to last," says another insider.
However, Emily couldn't keep up with the deception, and the two officially broke things off earlier this month at a Carolina Panthers football game.