'Desperate Housewives' Goes Out On A (Relatively) High Note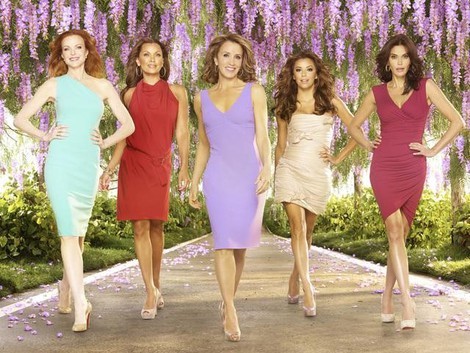 One of the final weeks of the TV season was a mixed bag for the networks. CBS, FOX and ABC had a few things to croon about, while NBC had to settle for, well, just a couple.
'NCIS' continues to outperform its rivals, taking in over 18 million viewers to rank first for the week, which had to make CBS happy. FOX was in the game with both installments of 'American Idol,' which placed second and fourth, respectively. And ABC got good numbers from 'Castle' and, of course, 'Dancing With the Stars.' To boot, 'Desperate Housewives' went out on a high note on Sunday, attracting over 11 million viewers. While that's just a fraction of the number who used to tune in, it's well above the show's season average. Some might consider it a disappointing performance for a series finale, however.
NBC, meanwhile, had to settle for two editions of 'The Voice' as its only two entries in the Top 20. The results show did well, placing 11th, but the network has to be worried that interest is waning, particularly since there is a fall and spring edition planned next year. Remember what happened to 'Who Wants to be a Millionaire' when it was overexposed?
Here's the full Top 20:
| | | | | |
| --- | --- | --- | --- | --- |
| Rank | Show | Network | Day | Viewers |
| 1 | NCIS | CBS | TUE | 18,195,000 |
| 2 | AMERICAN IDOL - WED | FOX | WED | 16,456,000 |
| 3 | DANCING WITH THE STARS | ABC | MON | 16,365,000 |
| 4 | AMERICAN IDOL - THURS | FOX | THURS | 15,616,000 |
| 5 | NCIS: LOS ANGELES | CBS | TUE | 14,562,000 |
| 6 | THE BIG BANG THEORY | CBS | THURS | 13,717,000 |
| 7 | DANCING WITH THE STARS - RESULTS | ABC | TUE | 13,708,000 |
| 8 | PERSON OF INTEREST | CBS | THURS | 12,957,000 |
| 9 | THE MENTALIST | CBS | THURS | 12,624,000 |
| 10 | CASTLE | ABC | MON | 12,358,000 |
| 11 | THE VOICE - RESULTS | NBC | TUE | 11,926,000 |
| 12 | CRIMINAL MINDS | CBS | WED | 11,620,000 |
| 13 | TWO AND A HALF MEN | CBS | MON | 11,430,000 |
| 14 | DESPERATE HOUSEWIVES | ABC | SUN | 11,119,000 |
| 15 | UNFORGETTABLE | CBS | TUE | 10,836,000 |
| 16 | THE VOICE | NBC | MON | 10,738,000 |
| 17 | BLUE BLOODS  | CBS | FRI | 10,727,000 |
| 18 | CSI | CBS | WED | 10,727,000 |
| 19 | MODERN FAMILY | ABC | WED | 10,580,000 |
| 20 | SURVIVOR | CBS | SUN | 10,344,000 |