Denzel Washington To Play Drug-Addicted Pilot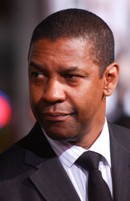 Denzel Washington is set to challenge his good guy image again by playing a drug-addled pilot in a new drama.

The movie star has signed on to lead the cast of Flight and he admits he can't wait to play another bad guy.

He tells WENN, "The next picture I made, which will come out the end of the year or the beginning of next year, is Flight. I play a alcoholic, drug-addicted pilot who crashes a plane but saves a lot of lives.

"It was the most intense film I've done probably in 20 years. I would say bad guys do have more fun."