Denzel Washington Donates To Theater Programs At Alma Mater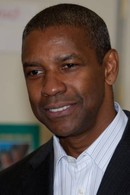 Denzel Washington has donated $2.25 million to his alma mater to help fund new theater improvements at the school.

The Training Day star graduated from New York's prestigious Fordham University in 1977 with a degree in drama and journalism, and now he's giving back to the community which once fostered his acting career.

The star will use a portion of the proceeds to set up the Denzel Washington Chair in theater, which will be filled by The Cosby Show veteran Phylicia Rashad, and the remaining money will be used to establish a scholarship for a minority student interested in the arts.